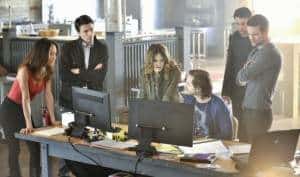 Coming on the heels of the pick-up of five new series (The Carrie Diaries, First Cut, Arrow, Cult and Beauty and the Beast), The CW has reportedly picked up spy series Nikita for a third season.
Nikita will join veteran series Supernatural, The Vampire Diaries, America's Next Top Model and 90210 on the schedule for the 2012-2013 season.
This is terrific news for the series, which is a quality show starring Maggie Q. Shane West and Lyndsy Fonseca, although it isn't highly rated. Currently airing on Friday nights, it pulls in slightly less or approximate ratings to veteran drama Supernatural. But The CW has a more advanced view of ratings and Nikita deserves another season to dazzle us with its strong performances and fun caper storylines.