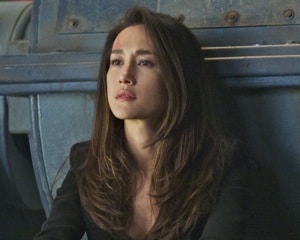 Get ready to mourn Nikita fans, "A horribly shocking thing happens this week," showrunner Craig Silverstein told TVLine.  How horrible?  How shocking?  How about the death of a series regular.
"In my mind – with the exception of Percy – I don't think we've really had a death like this. It's a hero's death for one of the members of our team, and [an actor or actress] who's been a regular for so long… Sure, Ari was an amazing character, but he was a bad guy. So, I don't think we've had this exact moment."
That's saying quite a bit for Nikita, a show that has had more than its share of shocking moments.  Of course the death of a major character is always difficult to take, but in the case of Nikita's character scape it is hard to think about the show with any of the regular heroes on board.
As far as the actual execution of the scene,  Silverstein does give some hints to the tone of the event.  He says it is not another run of the mill self sacrifice, nor is it a shot in the dark,  but something relatively in between.  And, even more shocking, it's not the only death this week. "There are a couple deaths this week, actually."   Although it is assumed there is only one major death.
So who could it be?  Here's a rundown of where Nikita's regulars are throughout the episode, "Broken Home", which airs this Friday on Thecw.  We are still in the middle of the big revolt that began with last week's episode.  Nikita is being brainwashed by Amanda.  Alex is trying to get control over the uprising that she set in motion.  Michael is still locked up leaving Birkhoff and Sean to fight off the mutiny.  Sam's memories force him to take a drastic measure during the lockdown.
So there you go, nobody is in a particularly safe spot.  That said, who do you think could wind up dying in this week's Nikita.  Let's try to eliminate a few people:
Nikita – Well duh, not only would they have to change the name of the show, when was the last time you saw the main character killed off on a series?  What WOULD be interesting is if somehow Amanda's programming got rooted enough to cause Nikita to kill one of her own people.
Sean – I have to admit there would be a certain dark poetry to Sean being killed in a situation that Alex is responsible for, but I still can't see them willingly writing him off the show.
Michael – Wow, don't go there.  Michael dying would be a huge game changer for Nikita in so many ways.  The impact would be brutal for fans as well as characters.  Killing off Michael would probably incite a revolt amongst the fans.
Alex -  Alex's death would certainly be appropriate given the current circumstances, but I'm not totally sure it would the big shock that Silverstein expects.  If it is Alex you could argue that her recent actions foreshadowed here death, therefore it isn't so much of a twist as it is a consequence.