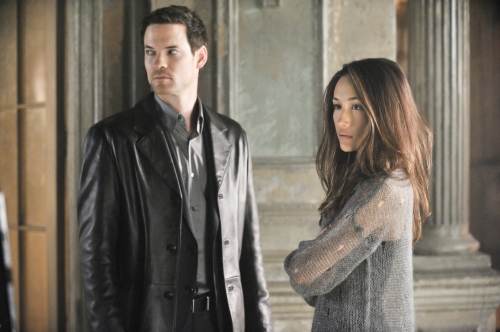 The season 1 finale of Nikita was certainly a game-changer. In some respects, we're coming back to a very different show in season 2, at least in terms of allegiances (which is a big part of the show).
The CW has provided details about the second season premiere. Nikita and Michael are officially on the run. Their ultimate goal at this point is to take down both Division and Oversight and they're willing to use the black box and its contents to do just that. Amanda is firmly in charge of Division, but she's going to be supervised. Oversight has assigned one of their agents – Sean, played by guest star Dillion Casey – to keep an eye on her.
Amanda's first task as the new head of Division is to retrieve the black box from Nikita and she asks Alex to help her get it back. But Alex isn't concerned about being a good little soldier and has plans of her own. She refuses to help Amanda unless Amanda will help her find the man who killed Alex's father. The network also says "Nikita and Michael find help from an unlikely ally." Any guesses on who it will be?
You can view a promo for the new season of Nikita here. Below is an on-set interview with Maggie Q. that shows a few new scenes from season 2.
The second season of Nikita premieres on Friday, September 23 at 8:00 p.m. on The CW.