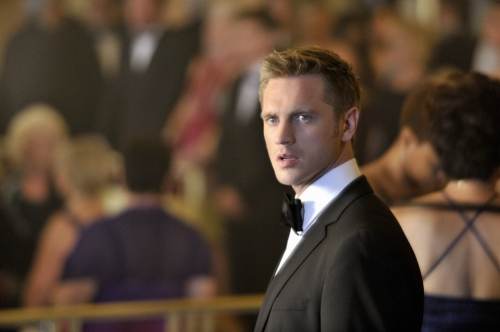 Last week's season premiere of Nikita felt like a brand new beginning for the show. But new locations, alliances and characters aside, tonight's episode means the return of a familiar face: Devon Sawa as former Division agent, Owen Elliot.
In tonight's episode, Nikita and Michael investigate an old Division program called P9, which seems to be operational again. The pair run across Owen, who is also looking into P9. More specifically, he's trying to track down Dr. Joseph Mars, who created both P9 and the regimen that Owen is still addicted to.
We had an opportunity to chat with Devon about his return as Owen, how he'll interact with Michael this time around, and what tonight's episode could mean for his character's future.
Last time we saw Owen, he was coming off the regimen (a performance enhancing drug) supplied by Division. Fortunately, Nikita and Michael were able to provide Owen with some additional doses to keep him going. But now Owen's supply is running out and he needs to find a way off the drugs. Fortunately, he's much more calm this time around: 'In this episode we don't see him turn into the '˜Tasmanian devil'as Michael says. But he's going that way. His main mission is to find a way to chemically detox off this regimen.'
A sneak peek for tonight's episode (view it below) features a scene between Birkoff, Michael and Owen. It's definitely a more playful side of the intense Owen than we're used to: 'In this episode [Owen] is in a level-state. He does have a bit of playfulness to him. That's why Owen and Nikita are [so similar]. They're trained assassins, but they also have heart.'
A more playful side to Owen isn't the only thing we'll be seeing tonight in terms of character interaction. The episode showcases a growing friendship between Michael and Owen, who haven't been buddy-buddy in the past. 'You'll see Michael's guard come down with Owen a little bit. I think Michael is starting to realize [Owen] isn't a threat. He's definitely not a threat to Michael and Nikita's relationship. And he sees the unspoken love that Owen and Nikita have. They kind of have this brother-sister/family thing going. That's because they get each other. They're both from that Division world where they were hardened assassins…and now they're out.'That sneak peek in particular shows a budding 'bromantic'relationship with 'the infamous '˜man nod'.'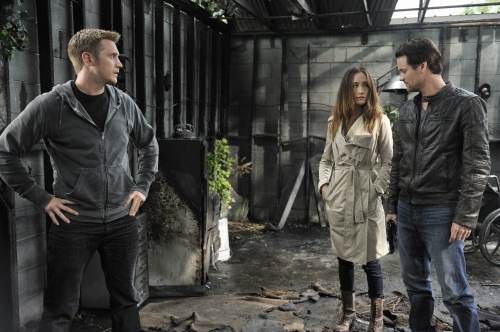 The photos for tonight's episode (view them here) feature the trio heading to a fancy party (complete with Owen and Michael decked out in tuxes!). I asked what exactly leads them all to this party and Devon was hard-pressed to explain exactly why without spilling the beans on many of the episode details: 'They're all after the same thing. Alex, Nikita, Michael and Owen are all after the same thing. They all end up getting the same information and ending up at the same place to try and find it. That's how they end up in that ballroom'.
With many of the main characters in the same room, I'm sure fans are finally hoping for a scene between Owen and Alex. I hate to disappoint everyone, but that's not going to happen — at least not yet. Devon said 'When they go into the ballroom, the only person Alex reacts with is Nikita, and it's from across the room. Michael and Own are doing their own thing in different sections of the ballroom as it's all going down.'
But finding a way off the regimen isn't the only think Owen is preoccupied with: 'He's got Percy on his mind', Devon told us. 'If you think about it, Percy is the devil. He's a bad, bad guy. Owen wants revenge and you'll see at the end of this episode, Owen goes into his own direction and it's kind of interesting the way he's going'.
What's this 'new direction'Devon is talking about? You'll have to wait until the end of tonight's episode to see. But whatever it is, it's sure to keep Owen in play. When Devon first met with the producers and writers, they were talking about having Owen appear in only two or three episodes. But the fan reaction has been so strong for this character that they're developing it further. Dvon himself is excited about what's in store and is firmly on board with Owen's upcoming storyline: 'What the writers are doing…what they've started right now, I can't wait to see what happens next.'
'Next'might be sooner rather than later. Devon is currently training at Legends MMA in Los Angeles and preparing for Owen's next episode, which he hopes will start shooting in several weeks.
Don't miss an all new episode of Nikita, tonight at 8:00 p.m. ET on The CW.
In addition to the sneak peek, below is a promo and episode preview for tonight. For more spoilers for upcoming episodes, check out our Nikita season 2 spoiler page.