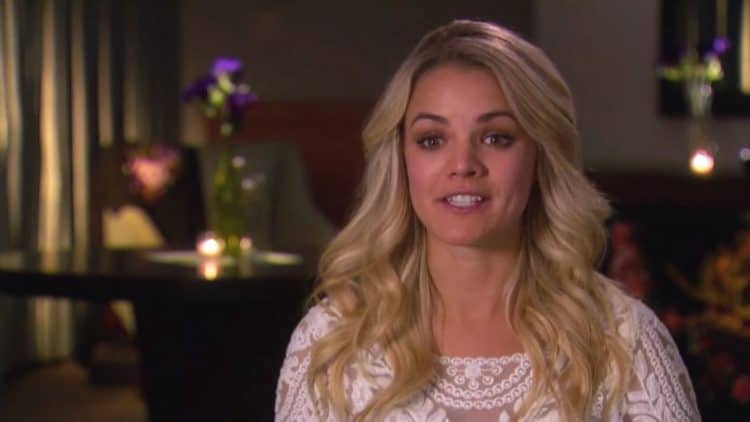 Despite the fact that the relationships on The Bachelor rarely work out, millions of people continue to tune in to the show each season. In 2014, viewers had high hopes for Nikki Ferrell's relationship with Juan Pablo Galavis when she was crowned the winner of the season. However, it didn't take long for things to go south and the couple went their separate ways shortly after the show. Nikki didn't stay down for long though. She continued to bask in her reality TV fame, made some career moves, and moved on to a new love interest. Even though it's been a while since she's been on reality TV, she still has a large fan base that loves keeping up with her moves. Continue reading for 10 things you didn't know about Nikki Ferrell.
1. She's Married
Back in 2014, Nikki may have thought she was going to marry Juan Pablo, but it looks like the universe had other plans. In January 2016, she got engaged to a longtime friend of hers named Tyler VanLoo. The couple tied the knot later that year. In 2018, reports began to circulate that they had separated, but they seem to be back together.
2. She Went Back To Working As A Nurse After The Show
Once most people become reality TV stars, they tend to move towards a career in entertainment. It's becoming less and less common for people to return to their 'normal' lives once they've been on a TV show. However, after her time on The Bachelor was done, Nikki went back to working as a pediatric nurse which she still does today.
3. She And Clare Crawley Will Never Be Friends
People who watched Nikki's season of The Bachelor may remember that she and fellow contestant, Clare Crawley, weren't the biggest fans of each other. Many have probably assumed that whole situation is water under the bridge now. But Nikki says that the two will never be friends. In an interview in September 2020, Nikki said, "I don't think there was anything we disagreed on, we just didn't like each other…She saw me as a threat to her relationship, and me not liking her, I just didn't like her. … I didn't like the way she acted."
4. She Loves Spending Time Outdoors
Nikki definitely isn't the kind of person who likes to sit in the house all day. Instead, she prefers to get outside and enjoy lots of fun adventures. Nikki loves to explore her surroundings and some of her favorite things to do include hiking, horseback riding, and boating.
5. She's An Avid Traveler
There's nothing that can quite compare to the feeling of visiting a new place. Learning about other cultures and customers is a great way to expand your worldview. Nikki has been blessed to be able to do lots of traveling over the years. She has gone to places like Mexico, Greece, and Italy.
6. She's Been A Brand Ambassador
Being on reality TV often comes with lots of perks, one of which is the opportunity to make money outside of the show. Since being on The Bachelor helped Nikki build a large social media following, she has gotten the chance to work with several brands. Most recently, she has worked with Teami Blends.
7. She An Juan Split Because She Felt She Wasn't A Priority
Many people were surprised when news broke that Nikki and Juan Pablo were calling it quits less than a year after the season finale. The reason for the split was actually relatively simple: Nikki felt that Juan Pablo could never make her one of the top priorities in his life. She added, "We're just different people. There are things that he thinks are OK and that I don't think are OK."
8. She Made A Couple Of TV Appearances After The Bachelor
It's pretty clear that Nikki never had any dreams of doing reality TV long term, but she did make a few other TV appearances after being on The Bachelor. In 2014, she and Juan were featured on a season of VH1's Couples Therapy. She was also a celebrity contestant on Who Wants to Be a Millionaire in 2016.
9. She's An Aunt
Nikki and Tyler haven't started a family of their own, but that doesn't mean that family isn't important to Nikki. She has very close relationships with her loved ones. She was overjoyed in December 2017 when she became an aunt to an adorable baby girl named Lucy.
10. She's From The Midwest
Nikki was born and raised in Missouri and she's very proud of her midwestern roots. Her husband, Tyler, was also born and raised in Missouri. When the couple got married it only made sense for them to do it in their home state. It's unclear where the couple lives today.