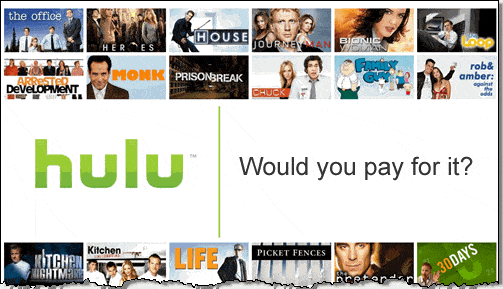 Back in October news broke that the free online tv service Hulu would start charging for some of it's content. It was unclear exactly when they would emplement a new subscription service to their already free content, and how they would balance their free content with their subscription service, but one thing was very clear. While some said they'd definitely pay for some content on Hulu, the resounding response across the internet was no way!
Today the LA Times posted an article that is shedding more light into Hulu's plans to charge for some of their content, though Hulu itself has released nothing and is playing the "no comment" game at the moment. According to the article the current business model that Hulu plans to launch would be to continue to show the 5 most recent episodes of a television series for free, but if you wish to view episodes beyond the 5 most recent then you'd have to pony up $4.99 a month for their subscription service. One would assume that if you were paying the subscription service you wouldn't have to watch any advertisements during your favorite shows, but nothing was mentioned about the advertisements specifically.
Hulu has spent a great deal of time since October studying the balance between free and subscirption based content, and just how to make it work, and still keep people happy. After all, they don't want to kill their advertising based revenue, they just want to supplement it with their subscription based revenue. Hulu currently estimates that it would need at least 20 active series, both old and new, in order to make such a pay service work for viewer and for Hulu. While this model is only one being considered currently, a firm pricing model could be rolled out wihtin the next six months, a source said.
Considering that Hulu is a partnership between NBC Universal, News Corp., and Walt Disney Co., amongst others, it seems likely to me that they can find at least 20 tv series to put into this new model. They wouldn't necessarily even need to make all of their series follow this model. Just the most popular ones. It also seems to me like a good way to get more older series into Hulu, so that there's at least a viable option for watching some shows that just aren't there right now.
It is also becoming clear that streaming television shows on computers is not the only future marketplace for Hulu. Analysts seem convinced that it won't be long before Hulu's video services become available through connected TVs, game consoles, and other devices coming out soon. This would allow Hulu to tap into the success that Netflix has shown with their on-demand service which has a growing list of subscribers watching through internet-connected video game consoles, Blu-ray players, and other such devices connected to TVs.
Regardless of how you feel about the direction Hulu is going in, times are changing and Hulu isn't the only company looking to cash in with subscription models. Earlier this week the New York Times introduced a subscription model they hope to start early next year for people viewing articles regularly on their website. The current idea seems to be the continuation of free content, and the addition of some subscription content to keep viewers, and readers, happy. I must admit that I love getting free stuff online and probably wouldn't pay for any of the subscription services. But as the online advertising treasure chest tightens up more and more companies will launch these types of plans and I for one just hope they continue to try to find a middle ground and offer some free and some premium content so that we can all win. But what do you think? Is the capitalization of the internet at hand or is this business as usual? Let us know in the comments below!