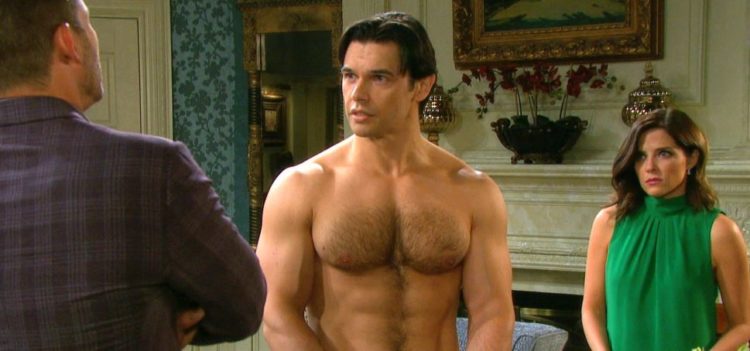 Days of Our Lives fans are in a difficult situation right now as the show did not air yesterday, and it will not air again today. The French Open has taken Day off the air for two days this week, and the show will return in full force on Monday. This means that there is no recap, there are no spoilers, and you just have to sit back and relax while you wait for the show to come back in a few days. Or, we can go ahead and take a look back at what's happened over the course of the past few days. This week has been more than a little interesting, after al.
We all saw things fall entirely apart for some people. We saw that Kate and Stefan decided to make their fight with one another so much more amazing than it was before. She is more than a little committed to taking him down, and she has no problem making sure the rest of the world knows where she stands. We also saw a familiar face make a big return. Ben is back in town, and he's got some stuff to do. He seems to think that he can make things right with the people who he hurt the most even though he's a cold-blooded killer and miserable person.
It was shocking for Will to see Ben show up on his doorstep and basically say, "Sorry, dude," for lying about killing you and all that other stuff. To say that Will was unhappy is a gross understatement, but Ben isn't just here to make amends. He might just have a plan of his own in some way that might make us all question what's happening in life. And that might not be good news for anyone. On top of that, we all watched as Ciara walked in on her boyfriend, Tripp, and Claire, in bed together. She was heartbroken, crushed, and beyond upset. And she ended up on her motorbike in a tragic accident. It's been one of those weeks — and that doesn't even count the fact that we all watched in horror as Kayla agreed to do whatever Stefan wants her to do so she can give Steven his vision back.
What's Happening on Days?
In the latest #DAYS, Ben shows up on Will's doorstep to make amends.https://t.co/70zOJaOWU0 pic.twitter.com/avCoU7h3oU

— Days of our Lives (@nbcdays) June 7, 2018
There's not a lot in the news right now about the show other than the usual. We have Ben's character here to stay, Sami might be making a big return in the near future, and we know that Abigail's Marci Miller's last day is coming up shortly. It won't be much longer until we see Kate Mansi return to her role as Marci, and that is basically it for the moment.
What's Next on Days of Our Lives?
Next is another two days without the show, and then it's a week of serious spoilers and crazy mayhem. The summer in Salem is going to be a little bit epic, and we cannot wait to see it all go down. Belle and Shawn will return in the near future to see what kind of trouble they can cause — which is always a lot. And then we will see as Farrah is coming back to the city to see what she can offer to her friends and enemies. We also hear that the midwife who delivered little Thomas is going to return. This could have some groundbreaking and earth-shattering news to come along with it — do you remember she was hired by Ben to deliver their baby?
Finally, we will see a few more things go down. We are all curious as to whether or not Sami will show up pregnant with Rafe's baby to add more drama to his life. So far, this one-night stand has cost him more than he is willing to admit, and we know he regrets more than he wants to admit. On second thought, he seems pretty good about admitting that he's very much regretful of this night. He cannot make that any clearer to Hope. But if Sami shows up pregnant, he has no more chance with Hope.
Stay tuned for more Days of Our Lives and be sure to check out TVOvermind daily for the latest Days of Our Lives spoilers, news, and updates.