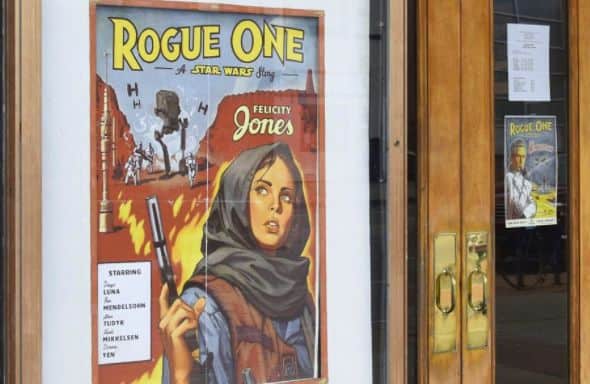 Recently this movie poster was spotted at the North Park Theater in Buffalo, NY.  It's an old-school style movie poster for Rogue One.  I decided to share it because I haven't really seen too many Rogue One movie posters that look like this.  As it turns out,  the theater hires local artists to create fan posters for certain films that they are re-showing. They usually make several and sell prints at the concession stand.
In the past the theater has featured movies like Blade Runner, Dune, Akira, and plenty of others.   This reminds me of Nighthawk Cinema in Brooklyn.  I go there once a year during the holiday season to see Die Hard on the big screen.  I'm a huge fan of theaters like this.  Nighthawk also serves great food with waiter service during the whole screening.  Honestly it's a great experience.
Anyway, I'm not sure what the North Park will be showing next but in case you're interested I have the old school posters of Blade Runner and Dune below.  If you spot any others from the theater please email them to us and we'll update this page.
P.S I have to mention that the sign truly looks like it says "Theatre for Ants."  Yes, Zoolander.