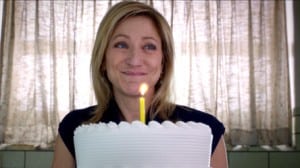 The past year of Jackie Peyton's life has been one of change, self-reflection, and prioritizing. After a decade as an addict, she had to face the emotions that were numbed through prescription medication and the ramifications of her lying and manipulation, the latter of which resulted in a nasty divorce from Kevin. For a woman who likes to be in control and have things a certain way in her life, Jackie simply had to focus on what she could, try and be there for her children during what was a difficult time for them as well, and let as much as she could go in order to be happy and come out on the other side of addiction with her health and mental well-being in tact. Helping matters was her relationship with Frank and the closure she got about Charlie, but on the next episode of Nurse Jackie, Jackie has to face a major milestone that brings up a lot of feelings she thought she had buried.
The day of her one-year celebration, she's not exactly in a joyous mood, considering that Zoey and Eddie are giving her a hard time about what happened with Grace. Neither are coming from a bad place, as Zoey wants an apology for Jackie dressing her down and Eddie tries to lighten things up to no avail, but Jackie's in a place where she doesn't need things like this to deal with, not that particular day. It's already hard enough for her to trust and put faith in people, so she needs the ones that she likes to be extra sensitive and support her that much more on a day when she's at her most vulnerable. Today, Jackie looks back on everything that she's went through in the past year and, consciously or not, has to decide if it was all worth it and if she should continue her path toward sobriety. Has she done enough to be able to resist temptation and keep herself clean for a time to come?
Elsewhere on Nurse Jackie, Zoey becomes rigid around Prentiss after their night together, while Jackie takes something that doesn't belong to her and Thor connects with a cancer patient he knows from a local piano bar.
The fifth season finale of Nurse Jackie airs Sunday at 9:00 on Showtime. The show has already been renewed for a sixth season, which begins production in the fall for a 2014 premiere.
What have you thought about the fifth season of Nurse Jackie? Where would you like to see the show go next season? How have you adjusted to seeing Jackie happy and fairly well-adjusted, considering all that she's been through?
http://www.youtube.com/watch?v=KaaF8akwPAo
http://www.youtube.com/watch?v=DFSCoX9GQH8
http://www.youtube.com/watch?v=LEG8Gfw-eT4
http://www.youtube.com/watch?v=ksAFUavEDQg