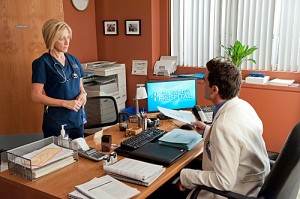 An interesting thing about the recent run of Nurse Jackie episodes is that Jackie, really, isn't mad at Kevin. She doesn't want to lose her children nor does she condone his snooping at the hospital, but he's a good father and, in her mind, understandably angry at her. Jackie could have very easily used the custody fight as fuel to relapse, but it seems that the time she's been sober has offered her a new perspective.
Of course, she's lawyering up, since Kevin doesn't want to give her any custody over Grace and Fiona, but it's less out of aggression and more out of preservation. Pre-sobriety Jackie would have gotten a pitbull of a lawyer and attacked Kevin without much thought, but post-sobriety Jackie seems skittish even trying to gather evidence for her case. The break-up with Kevin was a good thing for both parties, but since that time, they've switched roles. Jackie's become much more of a feeler and displayed a newfound sense of empathy, while Kevin has gotten colder and more direct, potentially a problem for Jackie's chances of keeping her children.
Zoey is dealing with problems of her own in the love department, as the fire that she once had for Lenny has been reduced to merely a pile of ash. The "proposal" from Coop last week kind of sealed the deal, giving her the type of butterflies that Lenny used to, and now it's time for the inevitable awkward break-up. Well, Zoey's (adorably) awkward to begin with, but any inter-office break-up is bound to be a pretty dicy thing to get over, so she needs all the help she can get. Luckily, she has Thor to demonstrate the right way to let somebody down gently, so hopefully Lenny doesn't get his heart broken too badly.
Nurse Jackie airs Sunday at 9:00 on Showtime.