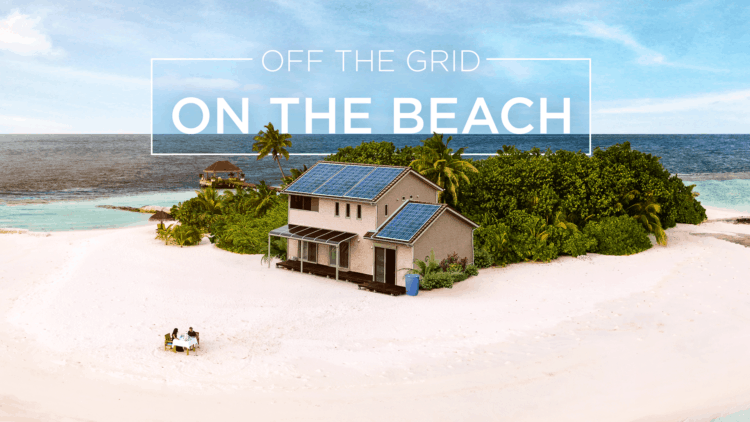 We've been watching a lot of HGTV lately, and one of our favorite shows is Off The Grid On The Beach. Watching people hunt up their dream homes in scenic oceanside locations is a visual treat. However, there's more going on here than meets the eye. Not only do these house hunters have new and different challenges to find their dream home, but the show has its own secrets. We decided to take a more in-depth look into what makes this show so spectacular, other than the views. Here are ten things you didn't know about Off The Grid On The Beach.
1. Not The First
From House Hunters International to the original Off The Grid, HGTV has tackled home hunting everywhere. When they find a formula that works, they stick to it. Of course, the other HGTV show that helps people find off-grid houses doesn't promise them oceanfront property. Nevertheless, we like Off The Grid almost as much as it's beach-loving companion show.
2. Worldwide
If you're a fan of House Hunters International, then you're going to adore Off The Grid On The Beach. The homeowner-hopefuls on OTGOTB are willing to look wherever they have to find their dream home. As long as the off-grid house is on the beach, they'll consider it even if you have to take a barge to get there. You'll be getting a virtual tour of some of the most stunning spots all over the world that have insanely beautiful off-grid properties for these lucky buyers. There's nothing quite like visiting a lovely foreign locale without worrying about what to pack, or where you put your passport. We'll admit it. We're jealous.
3. Extreme House Hunting
We know HGTV already has a show called Extreme Homes. However, most of those homeowners don't need to go scuba diving to get to their homes. In OTGOTB, house hunters are willing to go the distance, in whatever way they have to so they can check out their ideal homes and hopefully find the right location for their off-grid oasis.
4. Off-Grid Living is Not Easy or Simple
Sure, it seems so simple to get rid of the modern trappings. After all, as long as you have some running water and lights, then you'll be fine, right? That's not the case at all. Living off the grid is a substantial amount of work and one that many people aren't prepared for. Regardless of your view, off-grid living requires authentic self-sufficiency skills. A quick search will tell you that even the people who planned to move off the grid for years are always discovering things about OTG living that they didn't anticipate and need to work around. There are tons of lists based on things people wish they'd known before they went off the grid.
5. Hire Your Own HGTV Star
Who doesn't have a favorite HGTV star? Did you know that, if you live nearby, you might be able to hire one of the HGTV crews for your very own? It's not always about being on TV. In fact, some people don't want that press. If you're ready for your own off the grid paradise, you can ask an HGTV star to help you find it, and they might even say yes if there's room in their busy schedule. When you feel a kinship for a particular designer's style, or you're sure that only one real estate agent can get you the property you truly want, then it's worth reaching out. Hiring them won't get you on the show, but it might get your dream home. You can connect with the stars (https://www.hgtv.com/about-us/social) by getting ahold of them through HGTV.
6. Connect On Social Media
There's more to connecting than asking for an estimate. For superfans who want to get a hold of their favorite HGTV stars, or those who wish to follow their on-screen and off-screen exploits more closely, you can follow them on Twitter, Facebook, Pinterest, or Instagram. After all, we all love getting the inside scoop, and sometimes a thirty-minute episode isn't enough to tide us over until the next one airs.
7. You Could Be On The Show
We did n't see a casting call for Off The Grid On The Beach, but that's probably because they're already filming and airing this season. It's possible that you could be in a future episode. Keep your eyes on the 'Be on HGTV' page for opportunities. You can apply to become a permanent part of HGTV history by starring in an episode.
8. Double Debut
On New Years Day, HGTV premiered back-to-back episodes of Off the Grid On The Beach. However, at that time, there were no more on the schedule. Sunday, November 3, which was just over ten months later, the show re-premiered, and it has been on the air since then. Why the delay? We don't know, but we are happy to watch it.
9. Not Always a "Couple"
It might seem like every episode shows you a lovely married or engaged couple who are looking to get a new or renovated home. However, Off The Grid On The Beach is a perfect example of a fantastic HGTV show that has episodes dedicated to less traditional pairs. In Season One's second episode, 'Big Waves and Off-Roading', a pair of good friends decided to buy an off the grid home together. That's what best friends are for. Plus, they don't have to worry about divorce.
10. Like A Working Vacation
Most HGTV shows involve a couple who are seeking a house in one particular location. Usually, that means one city or even one neighborhood. Not so with Off The Grid On The Beach. These folks may have to travel as far as different islands, cities, or even countries to get the home they truly want. No worries though, it's probably a lot like a working vacation. Visit exotic locales, and hunt for your perfect home while you're there. Better yet, folks are getting their fifteen minutes of TV fame while they're at it.
Final Thoughts
We're big fans of DIY shows, and there's nothing quite as DIY as off-grid living. We're thrilled to see this incredible variation of the original Off The Grid. If you're ready for even more extreme off-grid action, then you have to watch Off The Grid On The Beach. Do you know any secret tidbits about the show? Share them with us in the comments section and read what others wrote.