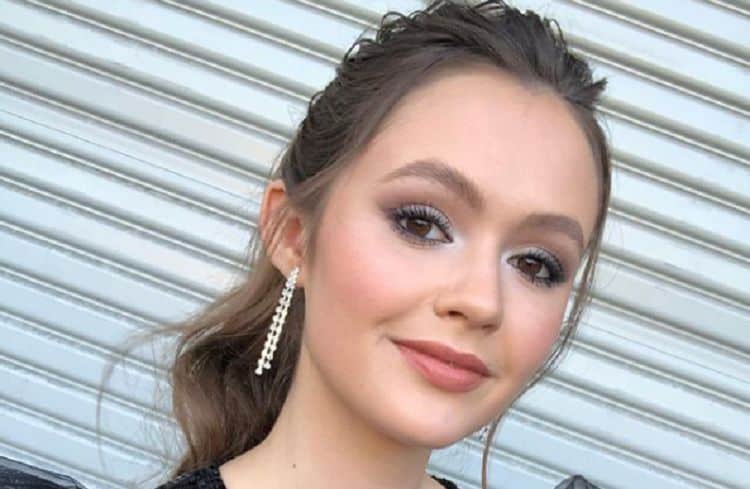 At just 16-years-old, Olivia Sanabia is already making boss moves. Olivia has loved to perform since she was a toddler and she finally got her big break in 2016 when she was cast in the series Just Add Magic. Since then, Olivia has gone on to land some other very impressive roles, most notably, a starring spot on Disney's series, Coop & Cami Ask The World. As one of the show's main characters, Olivia is part of the network's new generation of young talent and the possibilities are definitely endless.  Keep reading for 10 things you didn't know about Olivia Sanabia.
1. Snow White Is Her Favorite Disney Princess
In 2019, Olivia Sanabia landed a starring role in a production of A Snow White Christmas. However, this opportunity was more than just a role for Olivia. Snow White has been her favorite Disney princess since she was a child. When she was younger, her parents even nicknamed her Snow White due to her fair skin and dark hair.  She even dressed up as Snow White for Halloween during her childhood.
2. She Wishes She Could Have Met Aubrey Hepburn
If there's one person you could meet, dead or alive, who would it be? For Olivia Sanabia, that person is the legendary Audrey Hepburn who passed away in 1993. Olivia told Naluda Magazine that Hepburn "is a role model for so many people (including myself), and I would love to get some insight and learn her ways."
3. She Loves To Run
Olivia Sanabia may love to act and sing, but those aren't the only things she passionate about. She's a huge sports fan who especially loves running. In 2018, she put her running skills to the test by competing in her first half marathon.
4. Titanic Is One Of Her Favorite Movies
In the years since it's release, the movie Titanic has been dubbed a classic. The film won earned 14 Academy Award nominations and took home 11 of them. Although Olivia Sanabia wasn't even born when the 1997 film was released, she still loves the tragic love story. In fact, Titanic is one of her most watched films.
5. She Would Love To Star In A Broadway Musical
With her love for acting and singing, it's no surprise that Olivia Sanabia hopes to star in a Broadway musical someday. She's already thought about which roles she would want and told Yay Omg that her "dream role is Elphaba in Wicked or Sylvia Llewelyn Davies in Finding Neverland."
6. She Is Passionate About Cancer Research
Olivia Sanabia told Yay OMG that she is "devestated" for the countless people who have to deal with cancer. She has teamed up with an organization called Cookies for Cancer that raises money for childhood cancer research through local bake sales and other fundraising events.
7. She Is Motivated By Her Strong Faith
Getting the chance to do what you love is what most people would consider a dream come true. Olivia understands how fortunate she is to be able to act, sing, and use her platform to share things she's passionate about. She credits her faith with keeping her motivated and humble no matter what level of success she achieves.
8. Her Mom Is Her Biggest Inspiration
Family means everything to Olivia Sanabia and she values the close relationship she has with her loved ones. But she considers her mom to be her greatest inspiration. Olivia describes her mom as classy and hopes to be like her one day. Other people who have inspired Olivia include Selena Gomez and Hailee Steinfeld.
9. Her First Professional Job Was Alongside Jennifer Garner
There aren't too many people who can say they got to work with a big celebrity during their first professional gig, but Olivia Sanabia is one of the few who can say she did. Her first professional opportunity was a print ad where she got to work with Jennifer Garner.  Olivia was just 8-years-old at the time.
10. She Hopes To Work With Tom Hanks One Day
Olivia is young, but she has great respect for those who came before her and has studied the work of many legendary names in Hollywood. She told Everly Mag that she would love to work with Tom Hanks one day and shares that she's always "admired his acting ability". Emma Watson and Ginnifer Goodwin are two other stars she hopes to get the chance to work with some day.