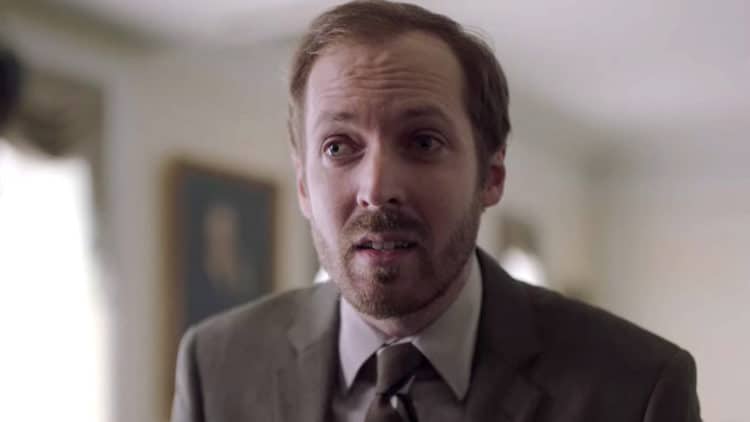 Olli Haaskivi is a man of many talents, and he's always enjoyed sharing those talents with others. Over the course of his career, his work as an actor has earned him recognition all around the world and his versatility is impossible to ignore. No matter the genre or the character he's tasked with playing, Olli knows how to bring a high level of authenticity to each opportunity. People will likely recognize him best from his role in shows like Manifest and The Sinner. Olli has also done some impressive work on the big screen. In his first on-screen appearance of 2021, Olli played Dr. Nagel in the Marvel mini-series The Falcon and the Winter Soldier. Keep reading for 10 things you didn't know about Olli Haaskivi.
1. He Is A First Generation American
Olli was born in Ohio, however, both of his parents were born in Finland. They met before migrating to the United States and most of Olli's extended family is still in Finland. Although he was born in the midwest, Olli was raised primarily in Florida and he has great memories of growing up in the Sunshine State. He currently lives in New York City.
2. His Name Isn't Pronounced The Way You Probably Think
When most people see Olli's name, they probably assume that it's pronounced like Ah-lee, but that's actually incorrect. His name is actually pronounced Oh-lee, but at this point in his life, Olli has come to accept the fact that many people are going to say it incorrectly.
3. He Has Been On Broadway
Olli has a very impressive on-screen resume, but that isn't the only place where his acting skills have shined. Olli also has a lot of theater experience including the Broadway production of Jurassic Parq: The Broadway Musical in which he originated the role of Samuel L. Jackson.
4. He Was Once On The Most Wanted List In Another Country
Being in trouble with the law is something that everyone wants to avoid, but being in trouble with the law in a foreign country can be even more terrifying. Unfortunately for Olli, that was his reality at one point. He once found himself on Finland's Most Wanted List after his father made a mistake with Olli's citizenship papers.
5. He Is A Formally Trained Actor
Olli fell in love with the idea of performing when he was a little kid, but he didn't get serious about pursuing acting until he was a teenager. After high school, he decided to continue his acting education at the University of Michigan where he earned a bachelor of fine arts degree in musical theater.
6. He Enjoys Reading
Olli's days as a traditional student may be over, but that doesn't mean he's done with learning. He is always looking for new information and he really enjoys reading. Olli loves reading a variety of things including essays, anthologies, and novels. Occasionally, he shares photos of his current read on Instagram.
7. He Is Not Shy About His Political Opinions
Politics are a sensitive subject for a lot of people and a result it's something that people tend to shy away from discussing. Olli, however, isn't afraid to share his political views. During the 2020 presidential election, he made it very clear that he did not support the re-election of former President Trump.
8. He Would Love To Work With Phoebe Waller-Bridge
Every actor has at least one other person in the industry they would love to get the chance to work with. For Olli, that person is Phoebe Waller-Bridge. When describing why he would to collaborate with her Olli told Absolute Music Chat, " She is so incisive and so smart but never at the expense of true emotion, and she's also hilarious and surprising. I would be happy to say even just one line she had written on a TV project."
9. He Likes To Sing
Even though Olli has never pursued a professional career in the music business, he has always enjoyed singing. While talking to Absolute Music Chat he said, "I love to sing, I think it's an amazing way to express yourself, and I think I have a really good, solid voice but it's not an extraordinary voice."
10. He Is Allergic To Cats
If there's one thing Olli is never going to be, it's a cat person. He is very allergic to cats. That doesn't mean that he is a dog person, though. In fact, Olli isn't really a pet person in general. Although he had a few betta fish in the past, he hasn't had any pets in the last several years.