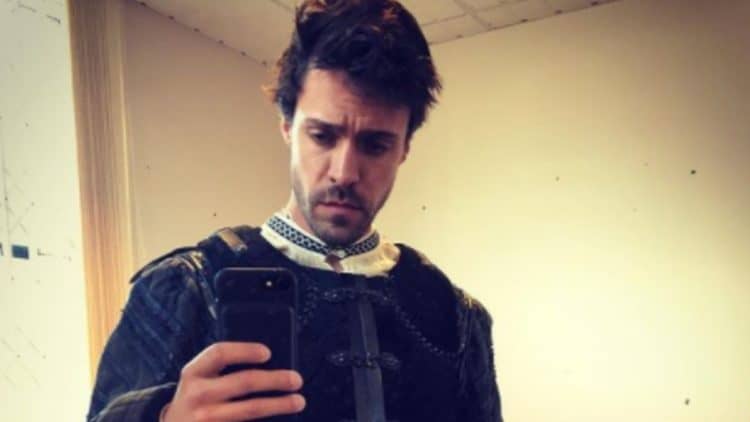 Olly Rix isn't exactly a new comer to the TV world, but you probably haven't seen his face too many times yet. He's made less than a dozen on screen appearances over the last decade, but hopefully that will be changing soon. His role as Edward Stafford in the popular TV show The Spanish Princess has introduced Olly and his talent to a wide audience and so far people are loving him. Between his good looks, charm, and top-notch acting skills there's no denying that Olly has exactly what it takes to become a star. Now in its second season, people are excited to see The Spanish Princess back on TV and see Olly back in action. Keep reading for 10 things you didn't know about Olly Rix.
1. He Got His Start On Stage
Just because Olly doesn't have a lot of on screen credits doesn't mean he's inexperienced. He spent several years doing theater work before breaking into TV. While many actors have expressed that there is an undeniable difference between acting on stage and acting in front of a camera, theater experience always tends to come in handy.
2. He Was In English Major
Majoring in English is often seen as a poor choice because of the growing lack of traditional jobs in the field, however, one thing we've learned about English majors is that they can do practically anything. Olly Rix is an example. He has a degree in English literature from Trinity College Oxford.
3. He Studied At London Academy of Music and Dramatic Art
After earning his degree, Olly knew that he wanted to take some time to focus on acting and hone his skills. He enrolled at the well-known London Academy of Music and Dramatic Art (LAMDA) where he studied for two years. Other well-known actors who have attended the school include Benedict Cumberbatch and John Lithgow.
4.  He's Not Afraid To Get Political
2020 has been a very intense year for politics and it's left people all over the country feeling very divided. As a result, some people have started to get silent about their political beliefs out of fear of being judged. Olly isn't one of those people, however. He isn't afraid to speak his mind when it comes to politics and he has made it very clear that he is a strong supporter of president elect Joe Biden.
5. He Enjoys Reading
Olly's schedule has gotten increasingly busy over the last few years. While that's a great sign for his career, it also means that he doesn't always have time to do other things he enjoys. One of those things is reading. Olly loves to read in his free time. In an Instagram post in 2018 he revealed that he's read The Cartel three times.
6. He's A Private Person
There are plenty of actors out there who enjoys sharing their private life with the world. In fact, most of us probably know more about some celebrities' personal lives than we can to. Olly, on the other hand, has chosen to take a different approach. He doesn't share much personal information and likes to keep the spotlight focused on what he has going on professionally.
7. He Likes To Stay Active
Staying in good shape isn't just about looking good, it's also about feeling good. Olly is the kind of person who loves to stay active and he incorporates exercise into his regular routine. On top of going traditional workouts at the gym, he also enjoys boxing and long distance running.
8. He's In A Relationship
Even though Olly likes to keep much of his personal life under wraps, we do know that he is in a happy relationship with a woman named Natasha Fagri. It's unclear exactly how long they've been together but they appear to be going strong. According to Natasha's Instagram bio she is a makeup artist.
9. He'd Never Seen Our Girl Before Being Cast
Olly joined the cast of Our Girl in 2018, and being on the show was new for him in more ways than one. He told the BBC, "I've already admitted to Tony that I hadn't seen it beforehand! Years ago I actually auditioned for Captain James and met Lacey Turner a couple of times to read various scenes. Ben, of course, was a much better choice and the rest is history, but I never had an opportunity to see it after that."
10. He's All About Positivity
Staying positive is one of those things that's usually much easier said than done. After all, with all of the bad things that happening the world, it's much easier to be negative. Even with that, Olly does his best to maintain a positive attitude and bring that into her work.