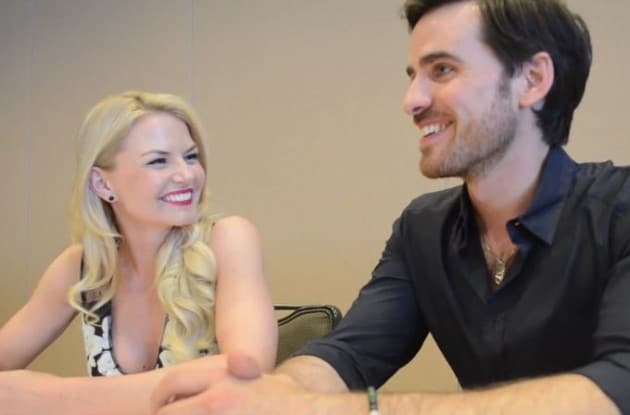 Once Upon a Time's fourth season ended on quite the cliffhanger with Emma protecting Storybrooke from the Darkness by becoming the new "Dark One" herself, and as photos and videos previewing the Season 5 premiere have shown us, we'll be dealing with a very different Emma when the new season kicks off, the "Dark Swan," as the show's producers are calling her. With so much change ahead for Emma, we had to ask how this newer, darker version of the character would affect not only herself but her relationships with her loved ones when we spoke with Jennifer Morrison and Colin O'Donoghue at the Once Upon a Time press room at San Diego Comic-Con.
In a roundtable discussion with Morrrison, O'Donoghue, and other reporters, both actors touched upon the tremendous impact that Emma's transformation will have on her and Hook's relationship and if it's possible that, with Emma now embracing her darker side, we could see Killian return to his more villainous ways. Additionally, Morrison talks about her preparation for playing this different type of Emma and how much fun she's having getting to do it, and the two of them also preview what we'll learn about the history of the "Dark Ones" in Season 5.
Check out the interview with Morrison and O'Donoghue below, and be sure to check back for more Once Upon a Time goodness this week, along with other interviews for major series, such as The Originals, Supergirl, and Heroes Reborn.
Once Upon a Time Season 5 premieres on Sunday, Sept. 27, at 8 p.m. on ABC.
[Photo via YouTube]