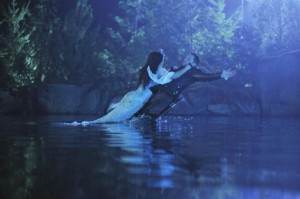 Once Upon a Time fans might be able to hang on to their hope that Mary Margaret and David will end up together in Storybrooke. We know that in the upcoming January 22 episode, the two are alone together while taking shelter in a cabin from a storm. And thanks to our exclusive sneak peek for the episode (view it here), we know that they'll confess their feelings for one another. Could the two of them start a full-fledged relationship right under Kathryn's nose?
Well, ABC is telling us that in the upcoming February 19 episode of Once Upon a Time, oddly titled "What Happened to Frederick", the duo's love for each other continues to grow. David is, apparently, at a point where he is willing to tell Kathryn about his relationship with Mary Margaret and ask for an out from their marriage.
Back in the fairytale land, Charming has officially become a runaway groom from his wedding to Abigail. We're thinking King George will not be too happy about that. As Charming searches for Snow White, he does agree to "aid Abigail on a dangerous mission to recover something precious that was lost to her". This brings him to a lake where a mysterious woman (water nymph?) confronts him and then…turns into Snow? Very curious.
For more about the show (including additional sneak peeks, photos, spoilers and information), visit our Once Upon a Time page.