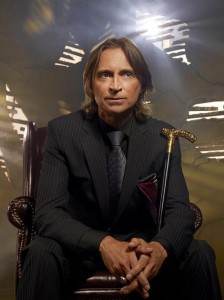 The last episode of Once Upon a Time flashed back to an earlier time in Storybrooke and revealed an important piece of information: Mr. Gold and Regina conspired to get rid of Kathryn in order to frame Mary Margaret. Mr. Gold had approached Regina for help in getting rid of a criminal charge and helping her with Kathryn was the price he had to pay.
The whole plan seemed to work for a while and Regina was elated that her sworn nemesis was being punished. But Mr. Gold delivered up a shock at the end of the last episode when he brought Kathryn back to Storybrooke…alive and well. It turns out that he didn't kill her, as Regina had intended, but only abducted her.
Naturally, Regina is furious in this weekend's episode She accuses her co-conspirator of breaking their agreement. "I broke one deal in my life, dear, and it sadly wasn't this one," he retorts. He does, however, point out that his recent actions could end very badly for her. "It's all going to lead to me, isn't it?" Regina asks worriedly.
Oh, yes, Regina. It most certainly will. Emma, who was already suspicious of Regina, will definitely be accusing her of having a hand in the Kathryn situation.
Watch a sneak peek below featuring Regina and Mr. Gold from the April 22 Once Upon a Time, airing at 8:00 p.m. ET/PT on ABC.
For more coverage of the show, including reviews, spoilers and sneak peeks, browse and bookmark our Once Upon a Time page. You can also watch the latest Hulu episodes there.