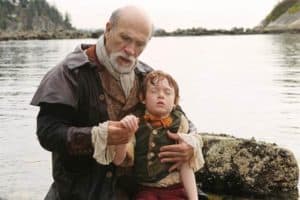 We're counting down to the Once Upon a Time finale now and this weekend's episode will delve into the world of Pinocchio and Geppetto, a story which hasn't yet been told in the fairytale world. Just before the Queen's curse was to take effect in that world, Geppetto agreed to construct the wardrobe that will bring Snow and Charming's daughter to another world, but he insisted on a proviso that will save his own son. We'll be seeing Pinocchio as a wooden doll and a real boy in this episode.
Meanwhile, Emma is determined to take Henry back from Regina after the mayor's involvement in the plot to frame Mary Margaret. First, she approaches Mr. Gold for help, believing that he can represent her in court. But he turns down her request. Perhaps he doesn't want to cross Regina again? After that, Emma heads out to find someone else who can help her. August promises to show Emma a way to beat Regina and regain custody of Henry.
Regina also has a confrontation with Mary Margaret now that the teacher has returned to work and this leads to her concocting a crazy new plan involving David (watch some sneak peeks).
Watch two sneak peeks below featuring Pinocchio and Emma from the April 29 episode of Once Upon a Time, airing at 8:00 p.m. ET/PT on ABC.
For more coverage of the show, including reviews, spoilers, Hulu episodes and sneak peeks, browse and bookmark our Once Upon a Time page.