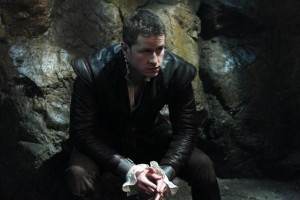 Let's recap Once Upon a Time, shall we? The penultimate episode has brought us back to the events first shown in the pilot episode. Throughout the season, we've gotten to see many moments from the past of Snow White and Prince Charming, but now we're arrived back towards the end of their lives in the fairytale world before the curse took effect.
In the last episode, Snow brought together an army of her friends to try and save Charming from King George, who had recaptured him. But the Evil Queen had swooped in and stole Charming from under Snow's nose, bringing him to her own castle. When Snow discovered this, she agreed to a meeting with the Queen in order to try and save him. But the Queen had only one proposition for Snow: she must eat the poisoned apple in order for Charming to remain safe. Snow agreed, ate the apple, and fell into a coma, with all of her friends believing she's dead. The Queen, back at her castle, seems to have no intention of letting Charming go free, preferring, instead, to have him executed.
But Charming is determined to save his lady love, so he tries to fight his way out of the castle to find her. Unfortunately, it seems like his daring escape is interrupted by more guards…at least until a mysterious ally steps in to help him.
Watch a sneak peek below for the May 13 season finale of Once Upon a Time, airing at 8:00 p.m .ET/PT on ABC. You can also watch sneak peeks from the Storybrooke world here.
For more coverage of the show, including reviews, photos, spoilers and sneak peeks, browse and bookmark our Once Upon a Time page.