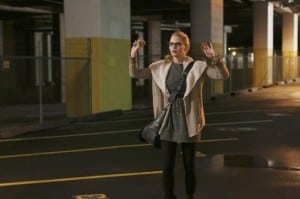 Will an early November episode of Once Upon a Time finally give us an answer to a question fans have been wondering since the series started: who is Henry's father?
Do you remember the mysterious man in New York that opened the show's season 2 premiere?  The same man who received a postcard from Storybrooke with only one word: broken.  Well, this man is connected to Emma's past.  In "Tallahassee", we'll get a glimpse at Emma years earlier.  According to the network "Emma's past is revealed to be anything but magical when she meets up with a fellow thief who wants to make an honest woman out of her."  Which, of course, begs the question as to whether this man – whose name is Neal Cassady – is Henry's father.
In the same episode, Emma takes a journey with Captain Hook to recover a compass that might help her and Mary Margaret get back home.  The pair travels up a magical beanstalk and come across the Giant (played by LOST's Jorge Garcia).
Check out our Once Upon a Time page for more spoilers, photos, sneak peeks and recaps for the show.