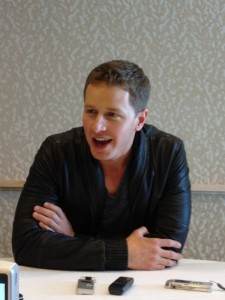 The Once Upon a Time panel revealed a few teases for season 2 (including the introduction of several new characters, which was also alluded to in two previews for the season), but the press room gave the cast and producers the opportunity to elaborate on the scoops given at the panel. Here's what we learned from stars Ginnifer Goodwin, Lana Parrilla, Josh Dallas, Jennifer Morrison, Meghan Ory and producers Adam Horowitz and Edward Kitsis:
Change is Coming. Each of the cast members interviewed stressed that a lot of change was coming to Once Upon a Time. "Everything will change," Ginnifer teased, "Because [all of the characters] will really remember everything from this point forward." As for that cliffhanger in the season 1 finale, the writers "wanted to finish telling a complete story for season 1 that was part of a larger story," Adam explained. But now that the curse has been lifted, will the world outside of Storybrooke me affected? He went on to say that any effects will be shown rather quickly.
Snow White and Prince Charming. Now that both of these characters remember their old lives, 'I think that what will happen to them this season will be just as titillating as what happened to them as last season, just for different reasons,'Ginnifer teased. To all of the fans who had hoped that the drama of 'świll they or won't they'that dominated this couple's Storybrooke relationship in season 1 would be over….I have good news and bad news. The good news is that knowing their true identity will be a good thing for their relationship. The bad news is that the drama isn't necessarily over, although it will be different. Edward and Adam explained that while it does seem cruel to continuously torture these two characters, there is always drama in every relationship. But the drama between them in season 1 is not the same drama as season 2. A new direction will be taken.
Josh was very passionate about Snow and Charming's new relationship for season 2, declaring that Charming 'remembers his old life, his old emotions. He remembers who he is at the core. Charming will remember everything about David and everything David went through. And [he'll] remember that David hurt the woman that he loved. That won't ever leave him. David is dead, Charming is back, and Regina has a lot to answer for.'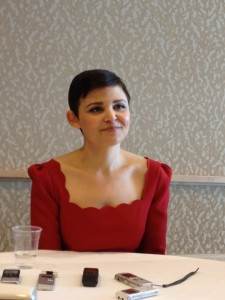 As for the characters individually, Ginnifer explained that Mary Margaret will always be a part of Snow White, but Snow White is her true identity. 'Even though Snow White from the present on will not be the same Snow White…as Mary Margaret is integrated into that Snow Whiteness, it will affect Snow White, but she will be far more empowered than Mary Margaret was and, therefore, will have a far stronger stance against Regina.'David, meanwhile, 'is devastated,'Josh explained. 'David's actions are not the actions of Charming. And that's one reason he's so angry, because that's something Regina did to him. That Regina did to them and their relationship."
Is the Evil Queen Back? Lana said that Regina's journey in season 2 will be very much about finding a way to get Henry back. 'I'm sure she's going to use magic to find a way to get him back.'
Lives in the Balance. The fate of a few characters hung in the balance in season 1, including August, who turned into Pinocchio in the season finale. Was he dead? Adam and Edward refused to confirm, but they did say that we would definitely learn the outcome of that story in season 2. As for the Huntsman/Sheriff – who died earlier in the season but made an appearance in the finale – the producers explained that his character is part of the DNA of the show and that the Huntsman himself is still alive, so he could very well appear again in flashbacks to the fairytale world.
New Characters. "We are very, very excited [about Mulan and Aurora]," Edward gushed. "We think they come into the show in a very exciting and unique way. Like everything we've done, we're not interested in retelling or just showing you the versions that you're used to, so we have a unique spin on both characters. And what we love is how they'll interact with people we know and love. When they come in and how they come in is a different thing." The producers hinted that it's relatively early in the season that Mulan and Aurora are introduced, but Lana went a step further to explain that we should see them within the first five episodes. As for the introduction of Captain Hook – which was a pleasant spoiler told to the panel fans earlier – Edward said that 'for the last year Adam and I couldn't get the rights. We've had Captain Hook on our shelf waiting to come out for a wile. We're really excited for his story and how he interacts with our characters.'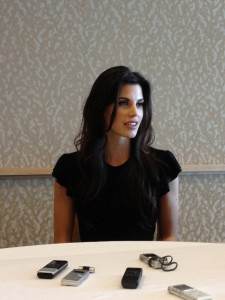 Who's Afraid of the Big Bad Wolf? When asked whether Ruby should be worried about wolfing out in Storybrooke, the producers teased that we'll all have to wait until the first full moon. Meanwhile, Ginnifer hinted that Red and Snow reuniting as friends is something that should happen, seeing as how close they were in the fairytale world.
Emma and the New Family Dynamic. 'While there's going to be so much relief at [Emma's family] having found each other, there are complications due to the fact that they're now the same age and the fact that Emma's parents are fairytale characters that she's been familiar with her whole life,'Ginnifer said. Jennifer laughed that 'I think [Emma's] going to freak out. I think she's going to be really overwhelmed. [But] I think, no matter what, she's a survivor.'Emma's relationship with Henry won't be all smooth-sailing either. Just like Emma will have to come to terms with her parents giving her up, she will have to find a way to mend his hurt feelings that she didn't share Henry's belief in the curse, particularly since he turned out to be right.
Once Upon a Time will air on Sunday nights at 8:00 p.m. ET/PT on ABC. For the most up-to-date news on the show, browse and bookmark our Once Upon a Time page.