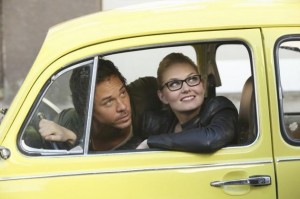 Dr. Whale's past was revealed in this week's Once Upon a Time and those fans who guessed that the doctor was actually Dr. Frankenstein were correct.  He was brought to the fairytale world by Rumple and Jefferson to fail at bringing Regina's dead fiance back from the dead, thereby convincing her that the dark arts were the way to go.  In Storybrooke, Dr. Whale brought back Daniel in hopes that Regina would return him to his world so he could resurrect his brother.  Meanwhile, in the present-day fairytale world, Emma and her traveling companions came across Hook, who spilled the beans on Cora's plans and then told them that they would need to find a special compass in order to help them return home.  It's location?  Up a beanstalk.  For more on the episode, read our full recap and review.
In next week's episode, we'll finally see flashbacks into Emma's past.  In "Tallahassee", we'll see the mysterious man from the season 2 premiere who is actually an important man from Emma's history when she was a thief.  In present-day fairytale land, Emma travels with Captain Hook up a beanstalk to retrieve an object that may help her and Mary Margaret get back to Storybrooke.  Jorge Garcia guest stars as The Giant.
Watch a preview below for the November 4th episode of Once Upon a Time.  You can browse through photos for the episode here.
Check out our Once Upon a Time page for more spoilers, photos, sneak peeks and recaps for the show.
http://youtu.be/g6upmIBtlso