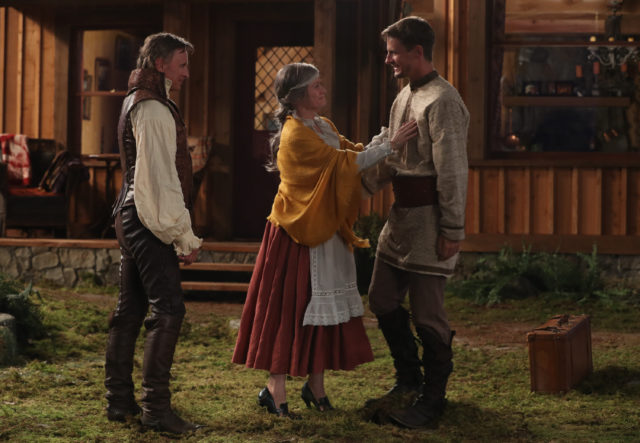 As we progress further into the new and yet familiar Once Upon A Time, there have been slow reveals regarding the characters (both new and old) and their pasts. That's always been a part of the DNA of Once Upon A Time. But for some reason, exploring Rumplestiltskin's story from the missing years had the some of the highest emotional stakes that any OUAT flashbacks have ever had. "Beauty" revisits Rumple's relationship with Belle and watches their son, Gideon, grow up into a man. The return of Emilie De Ravin and Giles Matthey, though short lived, was completely worth the wait.
Sure, there were other elements to the episode. Lucy ditches Ivy while Trick-or-Treating, so Henry goes to look for her. This story was pretty tame, but it made an interesting implication that I'm uncertain about. This is more of a question to my readers than anything. Even though we know that Henry and Cinderella are "in love" and have a child together, but since he doesn't remember that at all…was he vibing with Ivy/Drizella? Because it very much seemed like Henry's propensity for giving women positive attention and treating them like human beings just threw a major wrench in the main romance of the series. This could pretty easily be similar to the David/Catherine pairing in early season one, or create an interesting love triangle when they all wake up from this particular curse. Either way, some depth for Drizella and conflict for Henry aren't bad things, but I was really thrown by the vibes I was getting.
This brings us to the primary story: Why is Rumplestiltskin in Hyperion Heights? Where is Belle? What happened between the end of Season 6 and this new curse? In the time that Henry grew up, Rumple and Belle traveled the world and embarked on a never-ending quest to destroy the Dark One dagger forever. Rumbelle wasn't really the focus of during the last season, but it at least appears that Rumplestiltskin's good heart won out over the darkness within him and he lived a happy life with Belle. But their story is tragic. He could have lived a much happier life without the dagger. We may never get to see what that was like, as sadly Belle discovered she must die before Rumple could destroy it. I was never the biggest Rumbelle shipper but I always rooted for Rumplestiltskin to be a better man. "Beauty" showed us that man, and when they reached the end for Belle I was absolutely heartbroken. Once Upon A Time has rarely gotten me emotional, but in that regard, "Beauty" was a masterpiece.
Rumple, determined to complete the quest so that he can die and be at peace with his true love, appeared in Henry's realm at just the right time and met Alice/Tilly. Alice needs to be doped up to be kept from remembering their past lives and names, so when she isn't completely foggy she knows who she was before the curse, and more importantly, who Rumplestiltskin is. And she helps him remember.
This backstory was 100 times better than the "Earth-2" Hook story. Don't get me wrong because I love Colin O'Donoghue and I'm glad he stuck around, but Rumple was the same character we knew from before so his story resonated more. It was emotional, powerful, and generated just enough interesting plot threads to keep me interested in how this story plays out. It seems that no matter how hard they try, Once Upon A Time cannot keep Rumplestiltskin from being the most interesting character.
A few other thoughts:
Adelaide Kane is brilliant as Ivy/Drizella, and Rose Reynolds is a delight as Alice/Tilly. So far, they are my favorite additions to the cast.
I can't believe that it took four episodes before we even caught a glimpse of Storybrooke. It's crazy how much things have changed.
I would like to live at the edge of the realm when the days are so long that I can watch all of the shows I'm really far behind on.
All it took for me to get emotional was a little bit of Beauty and the Beast music while Rumple and Belle were dancing. Disney music gets me every. single. time.
To take it one further with the source material references, I LOVED when Alice took Rumple/Weaver's gun and said "We're all mad here". Brilliant.
I don't know that Once has ever had a more well-placed, well-used "dearie" before this episode. Masterful.
I've been skeptical at best during this new season, and long seasons can feel like a slog sometimes, but "Beauty" was an exercise in catharsis and told a story that almost every fan, both new and old, wanted to know. I haven't had an emotional experience like this watching Once Upon A Time in several years, and I have nothing but kudos for this effort.
What did you guys think? Did you enjoy the episode? Let us know!
Once Upon A Time airs Fridays at 8/7c on ABC
Once Upon A Time Season 7 Episode 4 Review: "Beauty"
Summary
Fans learn what became of Rumplestiltskin, Belle, and Gideon as Hyperion Heights celebrates Halloween on this week's emotional, compelling Once Upon A Time