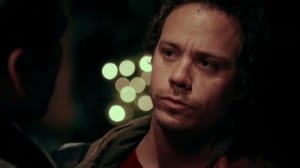 Once Upon a Time fans have been waiting a long time for certain characters to pop up on their screens. Since Captain Hook was introduced in the second season, fans have been eagerly awaiting the appearance of his arch nemesis: Peter Pan. Much like the fact that Rumple/Mr. Gold turned out to be the "crocodile", it turns out that we already know Peter…except we know him as Baelfire.
ABC has released the first 8 minutes of the penultimate episode, titled "Second Star to the Right…", which will dovetail nicely into the finale, titled "And Straight on 'Till Morning". The episode begins with Bae in a strange city. Starving, the boy breaks into a house and starts scarfing down some bread, but he's interrupted by the appearance of a young girl…a young girl whose name just so happens to be Wendy Darling. It looks like our Bae will be traveling to Neverland soon enough!
Meanwhile, here's a few other things you can expect to see in the episode (mini spoiler alert):
Emma, David, Mary Margaret and Henry will discover that Regina stole the magic beans. But when they find the plants she had hidden in her office, they're shocked to discover that the beans are missing once again. Emma is immediately suspicious about Tamara and is determined to track her down, but she also suggests her parents find Mr. Gold to see if he has magic to find Regina.
Meanwhile, Regina has been captured by Tamara and Greg, who also happened to swipe the beans from Regina's office and are communicating with someone/something called "the home office". Greg decides to torture Regina for information about his father's whereabouts, but Hook doesn't seem interested in this partnership unless it leads to Mr. Gold's death, so he bails for the moment. Greg also drops an interesting clue when he hooks Regina up to electrodes and says that electricity is "Â is how we deal with your kind." Very curious, indeed.
Watch the first 8 minutes of the May 5 episode of Once Upon a Time on ABC's website.