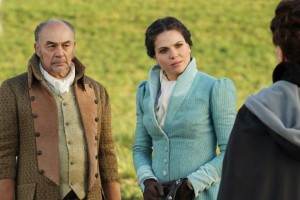 This weekend's Once Upon a Time will introduce us to the Evil Queen's mother, as well as provide backstory on how she went from Regina (yes, that was her fairytale name) to the Queen. From what we can gather, Regina and her family live a relatively comfortable life. While Regina is happy riding horses and spending time with her father (who is just as loving as we know him to be later in the future), Regina's mother, Cora, is tough and disapproving.
It's Cora's dream that her daughter marry King Leopold, Snow White's father, so that she can live a life of luxury and elevate the family's standing. Unfortunately, Regina isn't eager to follow through with her plan, as she's already in love with Daniel, the family's stable boy. While it's clear that she loves him, Regina is extremely hesitant to tell her mother the truth about their relationship, as Cora has grand plans for her daughter that are based on an upwards trajectory, not one that involves a stable boy.
We know that Regina goes on to marry the King, but we also know that this epsiode of Once Upon a Time will finally reveal the rift between Regina and Snow White, who is a younger girl in this episode. If I had to wager a guess, I would assume that some action by Snow leads to Daniel's death, which poisons Regina against her permanently.
Watch a sneak peek below featuring Regina and Daniel for the April 1 episode of Once Upon a Time, airing at 8:00 p.m. ET/PT on ABC. You can also watch a sneak peek featuring Regina's mother here.
For more coverage about the show, browse through and bookmark our Once Upon a Time showpage.