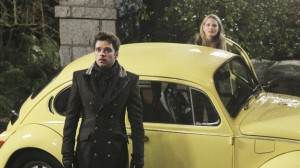 When we last saw Sebastian Stan on Once Upon a Time, we learned that he was the Mad Hatter in the fairytale world. Recruited by the Queen, he traveled to Wonderland in order to retrieve something from her. Unknown to him, he was retrieving her father, and was tricked by the Queen into remaining behind in Wonderland. Challenged by the Queen of Hearts, he continued to make hat after hat, trying to make a magical one to return him to the fairytale land that we know, as well as his daughter.
The Mad Hatter was also brought to Storybrooke when the Evil Queen cursed the land 28 years ago. Now named Jefferson, he remembers his fairytale roots and kidnapped Emma, demanding that she use her magic to make him a special hat to travel back to his world. She failed, but he managed to escape before she could arrest him.
Jefferson returns in this weekend's episode of Once Upon a Time. This time he interacts with Regina, who wants his help. He's resistant to this plan, at least until she tries to bribe him with his special hat and a little bit of magic.
Watch a sneak peek below for the May 6 episode of Once Upon a Time, airing at 8:00 p.m. ET/PT on ABC. Browse through photos for the episode here.
For more coverage of the show, including reviews, photos, spoilers and sneak peeks, browse and bookmark our Once Upon a Time page.