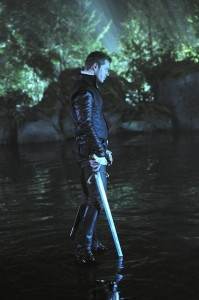 In last week's episode of Once Upon a Time, David and Mary Margaret once again reached an impasse in their relationship. Both of them understand that they can't really move forward while David is still married to Kathryn. Well, all of that is going to come to a head in the February 19 episode of Once Upon a Time.
Titled "What Happened to Frederick", this weekend's episode finds David being forced to make a decision about Kathryn. Although, it seems like that decision is taken from him when Regina tells Kathryn about the affair between her husband and Mary Margaret (as you can see in this promo).
In the fairytale world, Charming has already called off his marriage to Abigail and told King George that he will not be his pawn (which we saw in an earlier episode). In the upcoming episode, Abigail finally meets up with Charming for the first time after he pulled a runaway groom routine. "I won't marry someone I don't love" Charming insists. "I don't want to marry you either" Abigail replied. So that should make things easy, right? Wrong. Because as a favor, Charming agrees to help Abigail retrieve something important to her, which means he has to go up against a Siren.
Here's how Charming describes the Siren he encounters: "Your deceitful words are a spell meant to lure me to my death". That's when the Siren decides to bring out the big guns. In an attempt to confuse Charming, she transform herself into Snow White. Will our handsome prince fall for the charade?
Updated: Watch three sneak peeks from Storybrooke for this episode.
Watch two sneak peeks below for the February 19 episode of Once Upon a Time. You can browse through photos for the episode here.