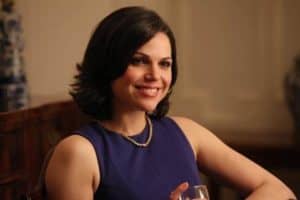 Regina's plan to frame Mary Margaret for Kathryn's murder on Once Upon a Time failed. Sidney may have confessed for the set-up, but Emma and Mary Margaret are convinced that Regina is behind everything, even if Sidney was willing to take the fall for her.
In this weekend's episode, Mary Margaret finally confronts Regina, saying she's convinced that the mayor played a part in trying to destroy her life. But Mary Margaret insists that she forgives her. "Your life must be filled with such incredible loneliness if your only joy comes from destroying everyone else's happiness," she says. "It's going to leave a giant hole in your heart."
Of course, Regina is less than thrilled about her sworn enemy getting off without the punishment she feels Mary Margaret deserves, so she comes up with a new plan to hurt her: seducing David. After he helps her with her car, she asks him to stay for dinner at her house. He's hesitant to stay, but he feels sorry with her when he learns about her loneliness and agrees. Will she be able to seduce him? I don't think Mary Margaret and David fans have anything to worry about, but we'll have to wait and see!
Watch two sneak peeks below for the April 29 episode of Once Upon a Time, airing at 8:00 p.m. ET/PT on ABC.
For more coverage of the show, including reviews, spoilers, Hulu episodes and sneak peeks, browse and bookmark our Once Upon a Time page.