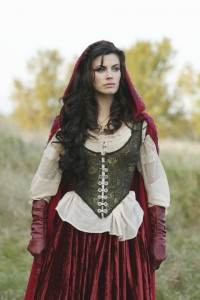 On Once Upon a Time, Ruby/Red Riding Hood is one of those characters who has spent a lot of time on the fringe of the show. We see her waitressing in Granny's diner in Storybrooke and she finally hit the town with Mary Margaret and Ashley in the most recent episode. Over in fairytale land, she's only been seen twice: in the pilot and in a recent episode where it was revealed that she helped Snow White try to find a way to forget her love for Charming.
But in the March 11 episode of Once Upon a Time, her story will finally be revealed. In Storybrooke, Ruby is completely fed up with working at Granny's diner, so she quits. Depressed about her current lot in life, Ruby decides to accept an opportunity from Emma to act as her assistant at the sheriff's office. And Emma is determined to figure out what Ruby is good at to help her find a better career.
In the fairytale land, we'll learn that Red Riding Hood had a love story of her own. As it turns out, she is desperate to leave town and run away with her one true love. Unfortunately, she and the rest of the townspeople are terrified of a wolf that is on a killing spree and keeping them virtual prisoners in their home.
Those of you who read the spoilers for the March 4 episode of Once Upon a Time also know that something bad will be happening to David's wife Kathryn very soon. In the March 11 episode, Emma will continue to investigate Kathryn's disappearance and question David. David Anders returns as Dr. Whale in this episode as well.
Don't miss an all new episode of Once Upon a Time on February 19 (watch some sneak peeks).