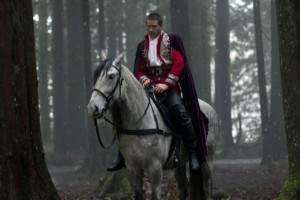 The pilot episode of Once Upon a Time, which premiered tonight on ABC, introduced us to a plethora of fairytale characters. Among them were Snow White, Prince Charming, the Evil Queen, Jiminy Cricket, Rumplestiltskin, Geppetto and Pinnhochio. Who else will you be seeing in upcoming episodes? We got the scoop during a recent visit to the Vancouver set of Once Upon a Time.
The possibility for which fairytale characters to introduce is endless, especially since most of these stories are part of the public domain and ABC is owned by Disney. But don't expect to just see the Disney versions of these characters. Executive Producer Steven Pearlman said that they've taken some liberties with the fairytale characters and their stories. While the basic stories haven't changed, the writers of the show have filled in some of the blanks in the stories: 'In an episode a little bit later, we tell the story of how the Queen came to get the red apple that she's going to kill Snow White with. [The story was] totally fabricated by the writers of the show.'
Pearlman also told us that we'll be seeing another princess very soon: Cinderella. The writers have decided that Cinderella and Snow White will be good friends. And why not? As contemporaries in fairytale literature, there's no reason these girls wouldn't know one another: 'It's kind of fun to see how it comes about and what that relationship is like. It plays in a way that…. for viewers who know the classic fairytales, it's very respectful and kind of a modern day twist on it. For people who don't know the classic fairytales, it kind of plays on that too. It's like '˜well, of course Cinderella and Snow White would be friends. Why wouldn't they be?'. I think it works on both levels.'Lana Parrilla, who plays the Evil Queen, also told us that Rumplestiltskin will be involved in the Cinderella story.
In addition to the princess brigade, we'll be seeing Hansel and Gretel in an upcoming episode. And make sure to pay attention to little clues along the way. Pearlman warned us that 'In some cases we're trying to plant a seed in an episode or introduce a character in an episode who you might not even know who they are or the significance they have an a couple of episodes later.'We know, for example, that Ruby (played by Meghan Ory), who is Granny's granddaughter and lives at the inn Emma visited in the pilot, is also Red Riding Hood. We only saw her very briefly in the pilot episode while Charming and the others were trying to figure out a way to save their world. We didn't hear her speak, but I suspect she'll definitely be popping up again in the future.
Episode 2, airing on October 30, introduces us to Maleficent, played by True Blood's Kristin Bauer, who we will see interacting with the Evil Queen. We'll also get our first glimpse at the Magic Mirror in this episode, played by Breaking Bad's Giancarlo Esposito.
Raphael Sbarge, who plays Archie/Jiminy Cricket, also told us that Brad Dourif will be appearing in an upcoming episode. Unfortunately, he couldn't tell us who he will be playing, but he'll be appearing in the episode focused on Rumplestiltskin.
Finally, episode 6 will feature King Midas. In that episode, which will show us Prince Charming's backstory, we'll also see Alan Dale playing Charming's father, King George, who goes to Midas for help with his ailing kingdom.
Don't miss an all new episode of Once Upon a Time on Sunday, October 30 on ABC.