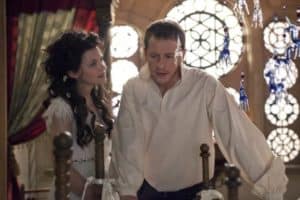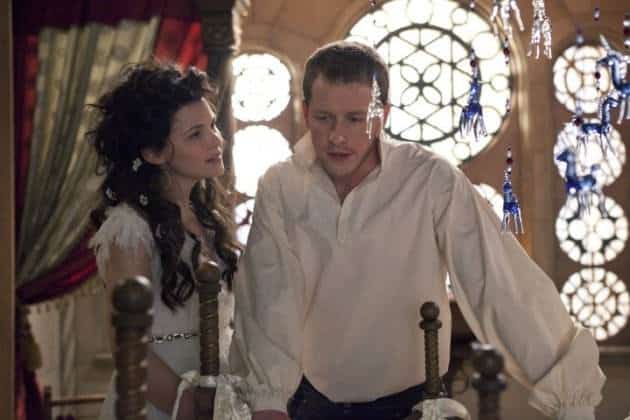 On Sunday night, ABC's new fantasy drama Once Upon a Time premieres. Two LOST writers, Adam Horowitz and Eddy Kitsis, came together again to bring audiences a show that is very different from our usual TV fare.
Once Upon a Time divides itself between two separate worlds. The first is a magical land where fairy tale characters we all know exist. Snow White and Prince Charming are about to be married. Geppetto and Pinocchio are carpenters. Jiminy Cricket is very small and tiny fairies fly through the air and sparkle. An evil queen, meanwhile, has decided to place a curse upon these fairy tale characters and has trapped them in our world, in a little town called Storybrooke, Maine.
In the pilot, a young bounty hunter named Emma meets a 10 year old boy named Henry, who is actually the son she gave up for adoption a decade ago. But Henry knows the truth, that Storybrooke's inhabitants are trapped in a curse, unable to remember who they really are. He brings Emma, the grown-up daughter of Snow White and Prince Charming, to Storybrooke, in hopes that her presence will allow the people there to remember their real identities.
Emma is skeptical, naturally. And she doesn't find herself welcome by Regina, Henry's adoptive mother and Storybrooke's mayor. But when Emma decides to stay in town, she sets in motion events that could lead to the truth being exposed.
ABC is giving viewers the opportunity to watch the first nine minutes of Once Upon a Time, which we have for you in the first video below, in addition to two other sneak peeks from the pilot. Readers in the U.S. can actually watch the entire pilot on IMDB.
Once Upon a Time premieres on Sunday, October 23 at 8:00 p.m. ET on ABC.
(Note: Readers outside of the U.S. may have trouble viewing the first clip below. If so, you should be able to watch the first 9 minutes here)