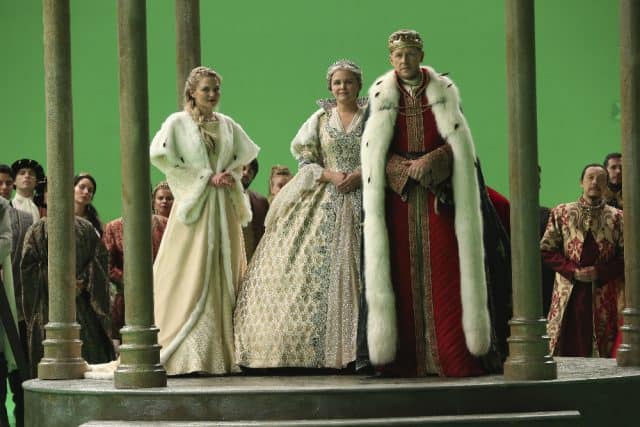 I didn't really want to use a green screen photo, but these were pretty much all that were available. Green screen or not, it doesn't change the fact that the winter finale of Once Upon A Time dropped bombshell after bombshell, and now we have to wait until March (!) for any resolution. At very least, the cliff-hanger was new, and not a long-standing one being drawn out.
This week on Once Upon A Time: The Evil Queen becomes master of the magic lamp, and wishes that Emma was never the savior. Emma, therefore, is transported into an alternate reality in which she is a princess, Charming and Show are King and Queen, and Henry is being knighted. Regina chases Emma into the alternate world, and must become the Evil Queen to bring out the Savior in Emma. Meanwhile, back home, Rumplestiltskin and Belle both fear for the life of their son. Charming, Hook, and those left in Storybrooke continue to battle the Evil Queen. The figure in the hood supposed to kill Emma is revealed.
Obviously, there was a lot of meat to this episode, which I appreciated. When seasons of shows like this get 22 or 23 episodes every year, they can occasionally feel watered-down. But "Wish You Were Here" had a little bit of everything. It resolved some of the standing stories, and further complicated others. As winter finale's go, it was quite satisfying, especially for an episode of Once that didn't end a short arc and start another, as the last few seasons have been.
There are two revelations that everyone (I assume) is abuzz about. Number one, the return of Robin Hood. I figured this would be more of a guest-cameo type appearance when it was first announced, since Robin Hood is dead. But, with this Earth-2 of sorts opening up, and Emma and Regina still trapped there, Sean Maguire could be around for awhile in Season 6B. I hope he is, and that they at least give him a proper send-off. I'm interested on several levels to see how Robin Hood is used, and how Emma and Regina continue to survive in this new world.
The second revelation is the man behind the hood, who is revealed to be (SPOILERS) the already grown son of Belle and Rumplestiltskin. First of all, I would like to point out after this revelation that this guy skeeved me out the entire season. I had a sneaking suspicion that even if he was who he said he was (still not sure about that) that he had ulterior, nefarious motives, and it turns out I'd be correct about that. Second, last week's episode teased Rumple's mom, the Black Fairy, and since she took the child, I expect that's what turns him into what he becomes. This has set up what is bound to be an incredible arc for Belle and Rumplestiltskin. I was so impressed with Emilie De Ravin last week that I'm looking forward to it tremendously.
Few other thoughts:
Since Emma and Regina are staying put for the time being, does Emma become queen since her parents are dead? If I'm a betting man, it's Henry that will rule the kingdom.
Also, does anyone think that Robin Hood will go back with them to Storybrooke? Sort of an Earth-2 Harrison Wells type scenario?
"Wish You Were Here" was extremely plot driven, but Once Upon A Time rose to its own challenge and presented several intriguing new plot threads for the second half of the season. Though maybe not totally in the Season 1 & 2 feel that I was hoping to bring back, the new approach (for the most part) seems to be working.
What did you guys think? Did you enjoy the episode? What were your thoughts on the twists? Let us know!
Once Upon A Time returns in March 2017 on ABC
Once Upon A Time Season 6 Episode 10 Review: "Wish You Were Here"
Summary
Regina must rescue Emma from an alternate reality, while those in Storybrooke try to stop the Evil Queen on this week's winter finale of Once Upon A Time.