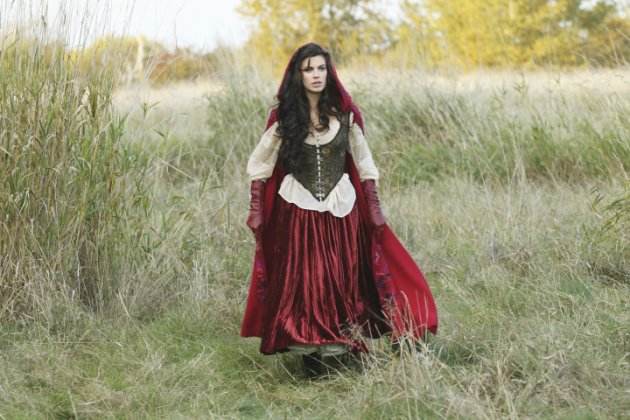 I was flabbergasted at the end of this week's episode of Once Upon a Time. As much as I had been rooting for Mary Margaret and David to get together, I still honestly didn't believe it would happen any time soon. Boy, was I wrong. By the end of this week's episode, the pair were kissing in the middle of a public street.
This week's Once Upon a Time brought Mary Margaret and David to the forefront. The will-they-won't-they business was bound to get tired after awhile and, I have to admit, I was afraid the episode would just be frustrating. For nearly 55 minutes, the episode taunted and teased the audience. But then it delivered big time.
As it turns out, Mary Margaret hadn't really been following her own advice about staying away from David. She was just being more subtle (stalkerish) about the whole situation. She would head over to Granny's diner at 7:15 a.m. every morning to catch a glimpse of David while he came in from his morning coffee. Later, at the drug store, Mary Margaret was in for a shock when she bumped into Kathryn and spotted a pregnancy test in her shopping basket.
After finding a trapped dove in the forest, Mary Margaret decided to venture back into the woods to return the bird to its flock. David wanted to go with her, but remembering her encounter with Kathryn, Mary Margaret told him he didn't need to come. Of course, he didn't bother listening to her, which was good news for her because he managed to save her from falling off a cliff. As a storm approached, the two sought shelter in an abandoned cabin in the woods. While there, they both admitted they had feelings for one another and seemed poised to kiss. But Mary Margaret pulled away and told David that Kathryn might be pregnant. Once again, we were left to believe that the pair would remain separated, especially after they both seemed ready to let go of their 7:15 a.m. stalking activities. But when they met up again at Granny's, David told Mary Margaret that his wife wasn't pregnant and the pair kissed as Regina watched on.
Meanwhile, the B-story on this week's Once Upon a Time revolved around the mysterious stranger who had ridden into town at the end of the previous episode. Regina was deeply suspicious after she saw him talking to Henry and told Emma to look into him. Emma did and wanted to know what was in the box he was carrying. As it turns out, it was simply an old typewriter. Mr. Stranger declared himself a writer. A lot of people speculated that he was the grown-up version of the boy who found baby Emma on the side of the road. But knowing he's a writer, let's speculate on the possibility that he actually wrote the fairytale book that Henry has. What do you think about that? It might justify why he's in Storybrooke considering strangers aren't supposed to come to the town. If he's connected to the people in town because he wrote the book about their lives, then maybe that explains the situation. That's my theory for now.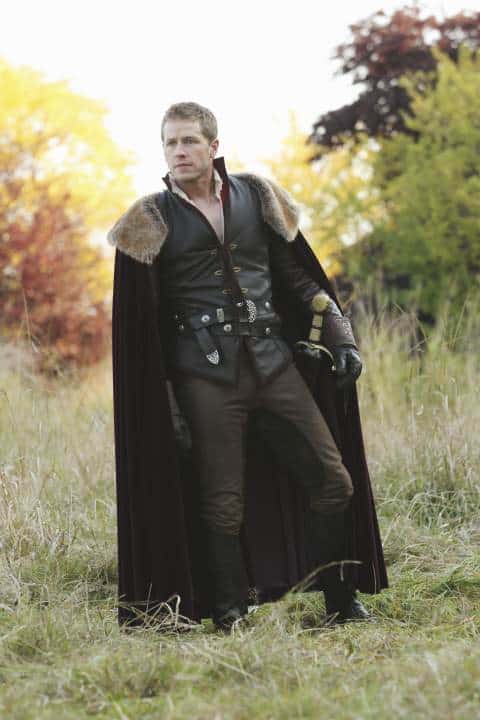 While the Once Upon a Time super-couple-in-training in Storybrooke seemed to get a bit of a happy ending, the fairytale super-couple-in-training went entirely in the opposite direction. As it turns out, Snow White's been hiding in the woods since escaping the Queen after her father's death. She comes across Red Riding Hood (who finally got some screen time!), who announced that Charming's wedding to Abigail would happen in a matter of days. Desperate to mend her broken heart over Charming, Snow went searching for Rumpelstiltskin on Red's suggestion.
After meeting the creepy magic man, Snow obtained a potion that was supposed to make her forget all about Charming (and all Rumple wanted in exchange was a lock of Snow's hair). In his castle, King George continued to push Charming to forget about this other woman who supposedly "held his heart" and to marry Abigail in order to save the kingdom. But Charming just couldn't let it go and wrote a letter to Snow, expressing his feelings. She received the letter just before she was going to drink the potion and headed to the castle to meet him instead. Unfortunately, she was captured and thrown into the dungeon. But that was also her opportunity to meet Grumpy, who was also imprisoned after being falsely accused. You have to love the twists on the classic stories that the Once Upon a Time writers deliver.
Fortunately, one of the heretofore unknown dwarfs – Stealthy – helped the two escape, but he was killed a few moments later. Grumpy nearly died as well until Snow arrived on the scene. King George ordered her to tell Charming she had never loved him, otherwise he would kill him. To save his life, Snow went through with it. Later, the dwarfs met up with her and took her home with them. Despite wanting to take the potion, Grumpy told her not to do it and not to forget Charming.
It seemed like all hope was lost – even though we know how the story ends. Charming surprised everyone by calling off his wedding and riding out to find Snow. While Grumpy arrived home with the good news about the cancelled wedding, Snow was simply confused as to who he was talking about. Because, as you see, she had taken the potion. Yikes. That's the Once Upon a Time writers for you – giving in Storybrooke and taking in the fairytale world.
This was a great episode of Once Upon a Time. Alan Dale is always a pleasure to watch as King George and is appropriately menacing. Charming was wonderful and heroic, although it's sad to know that Snow took the potion after all. I'm thrilled the show finally gave a proper introduction to the dwarfs. But what can come next for Mary Margaret and David? There's no way Regina will stand for the two of them being together. And out of everyone in town at this point, I sort of get the feeling that David is closest to remembering his fairytale life. More than the other Storybrooke residents, he seems pulled between two lives…the fake life that Regina created and his real life – and love – with Snow/Mary Margaret.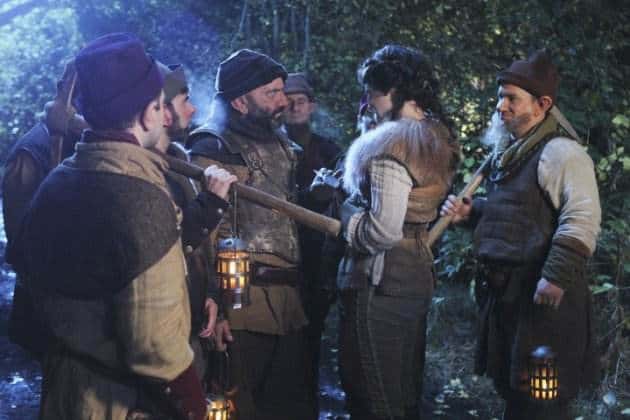 A few final thoughts:
-What is Rumple planning on doing with Snow's hair?
-What exactly is the history between Red and Snow? In this episode Snow curiously said to Red "I helped you when no one else would." Interesting, right? I hope we get to see Red's story soon. She's a character that has gotten so little screen time in the fairytale world and in Storybrooke.
-Do you think that Charming waking Snow with a kiss from the Queen's poisonous apple is the next time the pair see each other? Or do you think there's more to come with them, even if Snow apparently no longer remembers him thanks to Rumple's potion?
-The scene that really struck me in tonight's episode lasted only a few minutes and came at the very beginning. While Henry was talking to the mysterious stranger, Regina came out of her house and appeared very concerned. That scene was probably the most genuine concern Regina has showed for Henry since the show began. She's usually bossing him around or getting angry with him about something and we've never really witnessed Regina as a caring mother (at least, in my opinion). I really liked the opening scene for showing us that.
A new episode of Once Upon a Time will air on January 29. You can watch a trailer for the episode here and browse through photos here.