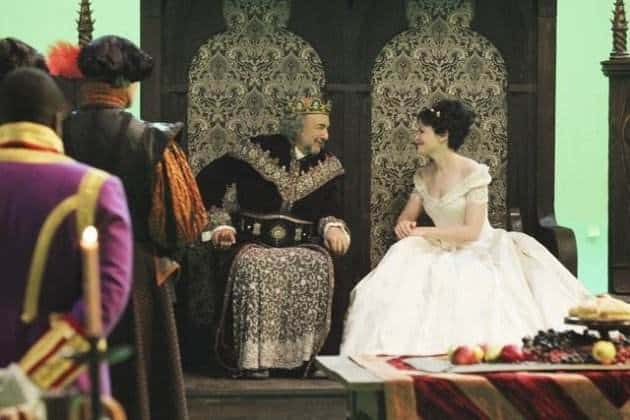 This week's Once Upon a Time showed us another chapter in the Snow White/Prince Charming saga. We ultimately know that their story ends happily – at least until the Queen unleashes her curse – but there were a lot of roadblocks along the way. In the fairytale world, Snow White learned that Charming's wedding to Abigail was fast approaching. Desperate to forget him, she obtained a potion from Rumpelstiltskin that was supposed to make her forget him. But before she could do that, she received a letter from Charming proclaiming his love. She went to the castle to visit him, but was eventually captured by the King, who threatened to kill Charming unless Snow told him she didn't love him. To save his life, she did. But despite what she did, Charming called off the wedding. Unfortunately, it was too late, since Snow had already taken the potion.
In Storybrooke, Emma confronted the mysterious stranger who rode into town on his motorcycle. While we don't yet know any details about him, he did show Emma what was in his box: an old-fashioned typewriter. Meanwhile, David followed Mary Margaret out to the woods while she went to return a trapped dove to its flock. The two took shelter in a cabin together as a storm raged outside and eventually confessed their feelings. But Mary Margaret put a stop to it when she told David Kathryn might be pregnant (since she saw her buying a pregnancy test). She told David they had to stay away from each other. In the end they both had a change of heart and the pair ended up kissing on the street while Regina looked on. For more on the episode, read our full recap and review.
A new episode of Once Upon a Time will air next weekend. Snow White is once again the focus in the fairytale world, only we're going back in time. We'll see her with her father and the Queen before her father passed away. In Storybrooke, Mary Margaret and David continue with their affair, while Sidney teams up with Emma to expose Regina's corruption.
Watch a sneak peek with Snow, her father, and the Queen and a peek with Mary Margaret and David.
Watch a trailer below for the January 29 episode of Once Upon a Time, airing at 8:00 p.m. EST on ABC. You can also view some photos for the episode here.