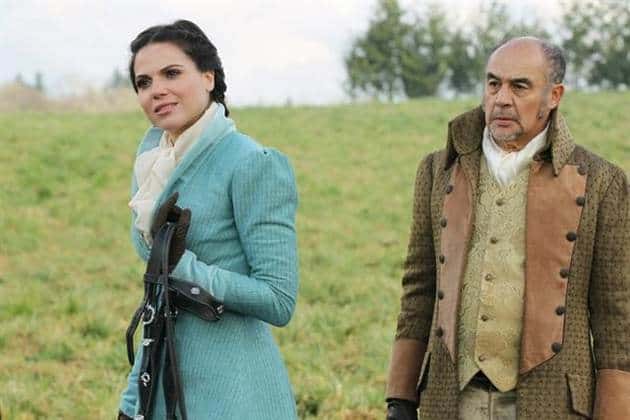 This week's Once Upon a Time featured guest star Sebastian Stan as a magician who is tricked into traveling to Wonderland in order to retrieve the Queen's father, but is left behind when she gets him back. Trapped in another land, he's forced to try and re-make a magical hat in order to return home to his daughter, but he's driven mad after so many failed attempts. In Storybrooke, Emma went out to search for Mary Margaret after learning she escaped. She came across Stan's character Jefferson, who seemed convinced that Emma could help him re-build his magical hat (since she, herself, possesses magic), so that he could return home. Unlike many other Storybrooke characters, Jefferson knew the truth about the curse and the fairytale world.
Emma couldn't help him, but she did find Mary Margaret tied up in his house. She managed to free her and Jefferson disappeared after attacking the women and being pushed out of the window. Emma convinced Mary Margaret to return to the station and trust her to get her out of these murder charges. But we learned that Regina and Mr. Gold had teamed up to get Mary Margaret to escape. For more on the episode, read our full recap.
The April 1 episode of Once Upon a Time will give us some much-needed backstory on the Evil Queen (whose original name is Regina). Back before she was married to Snow White's father, she lived with her parents. Her mother, Cora (guest star Barbara Hershey), wants her to marry the king so that she can live a live of wealth, but Regina is in love with another man. The rift between Snow White and the Queen will also be revealed.
Watch a preview below for the April 1 episode of Once Upon a Time, airing at 8:00 p.m. ET/PT on ABC. You can also browse through photos for the episode here.