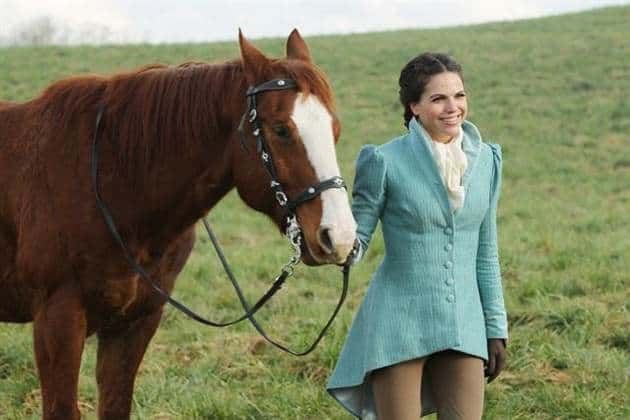 Could it be? Could the Queen have been in love with a stable boy before she became evil on Once Upon a Time?
The upcoming April 1 episode of Once Upon a Time, titled "Stable Boy", will finally give us some much desired information about the fairytale world's Evil Queen. Barbara Hershey guest stars as the Queen's mother, Cora. From the looks of the ABC synopsis for the episode, the Queen may have actually been named Regina before she became The Evil Queen. In her earlier years, Cora is pushing hard for her daughter to marry King Leopold (guest star Richard Schiff), but Regina seems incredibly torn. Leopold is offering up a life of luxury, but a loveless marriage. Can Regina really defy her mother's wishes and be with the man that she truly loves (perhaps the stable boy, given the episode's title)?
This episode is also important not only to learn the Queen's backstory, but also because it will reveal the rift between Snow White and the Queen. From the looks of the photos for the episode, could a younger version of Snow be appearing in the episode as the Queen prepares to marry her father? How far back does the Queen's hatred of Snow actually go? It looks like we'll have our answer in a matter of weeks.
Meanwhile, in Storybrooke, Emma is determined to prove that Mary Margaret isn't responsible for killing David's wife, Kathryn, and continues her search for evidence to exonerate her friend. Alan Dale will make another guest appearance as District Attorney Albert Spencer in Storybrooke and King George in the fairytale world.
Updated: Watch a preview for episode 1.18.
For more about the show, check out our new Once Upon a Time showpage, complete with all of our trailers, photos, spoilers and recaps.