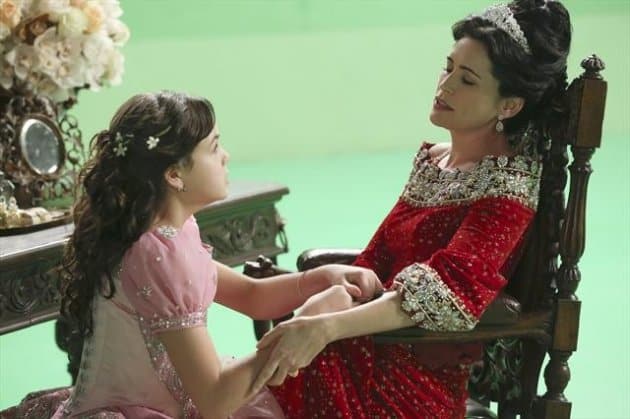 ABC gifted fans with a pretty stellar episode of Once Upon a Time this past weekend (read our recap), but now we're stuck waiting for a new episode until March 3. 
In "The Queen is Dead" we'll finally met Snow's mother, Eva, played by Rena Sofer.  In addition, Downton Abbey's Lesley Nicol will be making a guest appearance as Queen Eva's servant,  Johanna.  In the episode, "the Blue Fairy offers Snow White an unconventional enchantment that could help save her dying mother".  In present-day Storybrooke, Mary Margaret will discover that Cora and Regina are trying to get possession of Rumplestiltskin's dagger.  Based on photos for the episode, it appears that the two women actually locate the dagger, but Mary Margaret (with help from David) sweeps in to ensure they can't control or kill Rumple. 
Finally, in Manhattan, Mr. Gold is still desperately trying to bond with Neal, who rejected him pretty soundly after coming face-to-face with his father after so many years apart.  But based on the promo, it looks like Hook might catch up with Gold and someone gets very hurt. 
Click the photos below to browse through pictures for the March 3 episode of Once Upon a Time on ABC.
Visit our Once Upon a Time page for spoilers, previews, sneak peeks and more.