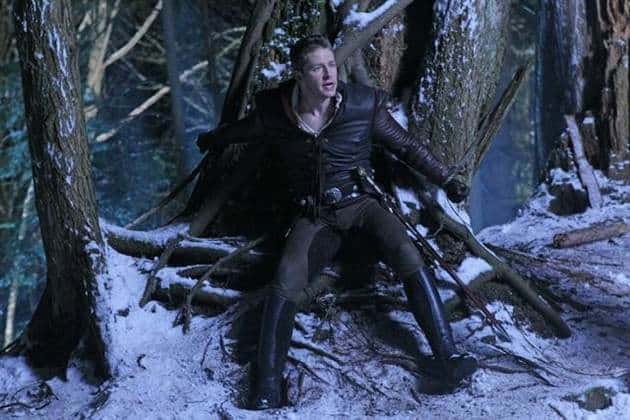 This week's Once Upon a Time gave us an unexpected surprise in the fairytale world. The story focused on the tale of Red Riding Hood, who lived with Granny in a small village. The villagers lived in fear from a wolf who kept killing livestock, until it graduated to people. Red became quick friends with Snow White, who had taken to hiding out in their barn after escaping the Queen and the Huntsman. Red complained about how over-protective Granny was, especially when trying to keep Red locked up at night and keeping her away from a boy that she loved, Peter. After doing some investigating with Snow, Red thought that the wolf was actually Peter (like a werewolf). But when Red tied him up to stop him from hurting anyone, the plan backfired, since it turns out that Red was actually the wolf. Granny revealed to Snow that Red and her mother and grandfather had all been werewolves. Despite Red killing Peter, Snow managed to get Red out of the woods before the hunting party came upon them.
Meanwhile, in Storybrooke, David experienced another "blackout episode" while out in the woods, which led him and Emma to wonder whether he had something to do with Kathryn. Ruby quit her job at the diner after Granny pushed her one too many times and got a job as Emma's assistant down at the police station. She was a pretty good asset for Emma, but was horrified when she found a box with a heart in it, so she went back to work at the diner. Now Emma thinks that box contains Kathryn's heart and delivered the news to David and Mary Margaret. She also dropped the bombshell that the box contained Mary Margaret's fingerprints.
The March 18 episode of Once Upon a Time once again focuses on Snow White and Charming in the fairytale world. After calling off his wedding to Abigail and reuniting her with Frederick, Charming sets off in search of Snow, who no longer remembers him. He races to try and stop her from assassinating the Queen, as the forgetful potion has also made her slightly unhinged. In Storybrooke, Mary Margaret must deal with being labelled a murder suspect and hires Mr. Gold as her lawyer.
Watch a preview below for the March 18 episode of Once Upon a Time, airing at 8:00 p.m. ET on ABC. You can also view photos for the episode here.
Updated: Watch a sneak peek of Snow plotting to kill the Queen in the fairytale world and a clip of Mary Margaret being questioned for murder in Storybrooke.
You should also check out our new Once Upon a Time showpage for all of our information and articles about the shows. All of the show's photos, sneak peeks, spoilers and recap in one convenient location!