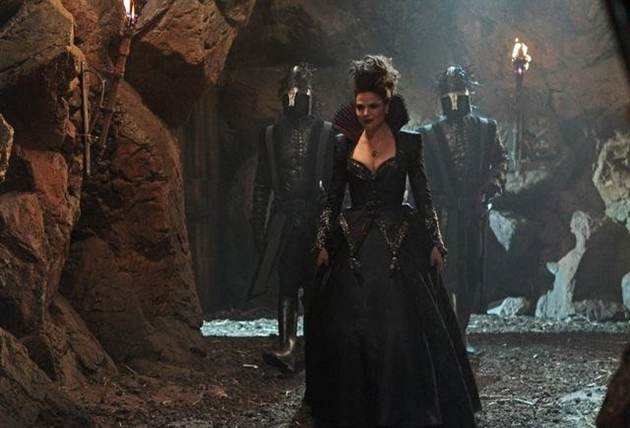 In the penultimate episode of Once Upon a Time, Snow White amassed an army of her friends (dwarves, Granny, Red and the faeries) to save Prince Charming from the Evil Queen. But their plan failed when it was revealed that Charming was really in another castle. The Queen reached out to Snow, demanding a meeting. When they met over Daniel's grave, the Queen proposed a deal: she would let Charming live if Snow ate the poisoned apple. Snow agreed and ate the fruit, collapsing into a coma, while her friends thought her dead.
In the Storybrooke world, Henry convinced Emma to remain in town, despite her unwillingness to take on the responsibility of saving its residents. After some harsh, but necessary, words from both Mary Margaret and Archie, Emma attempted to do right by her son. Meanwhile, Regina realized the curse was weakening and she had Jefferson retrieve her poison apple from the fairytale world in order to put Emma to sleep forever. Regina invited Emma over for some delicious – but tragic – apple turnover, but Henry foiled her plan when he ate the dessert and collapsed. For more about the episode, read our full recap and review.
Will magic come to Storybrooke in the season finale? Henry is in the hospital, while both of his mothers watch over him. But it looks like Regina's curse continues to unravel as the town's residents prepare for the worst.
Updated: Four former guest stars are set to return for the season finale.
Watch a preview below for the May 13 season finale of Once Upon a Time, airing at 8:00 p.m. ET/PT on ABC.
For more coverage of the show, including reviews, photos, spoilers and sneak peeks, browse and bookmark our Once Upon a Time page.