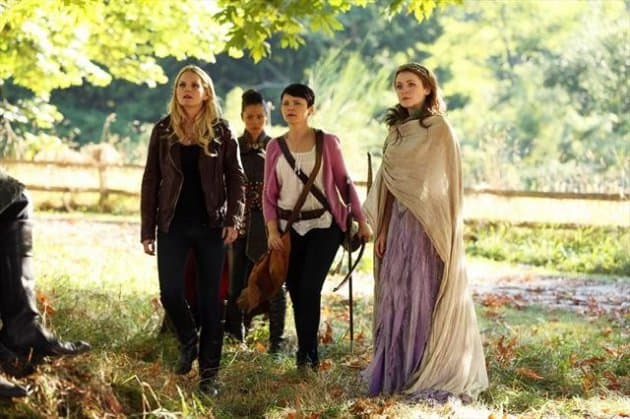 The first full moon since the curse broke came in this week's episode of Once Upon a Time, leaving Ruby to worry that her control over her wolf would no longer be in place after 28 years without shifting.  As it turns out, her wolf broke out of the make-shift cage she and Granny built in the diner and someone died.  But all of this was Spencer's fault, as he was determined to expose David as a fraud.  To do this he set up Ruby as a killer and convinced the townspeople that David was protecting her.  In the end David managed to save Ruby and convince the town that Spencer was guilty, but Spencer's Plan B involved destroying Jefferson's hat and David's chance to get his wife and daughter back.  For more on the episode, read our full recap.
Once Upon a Time is on hiatus next week but will return at the end of November with an episode titled "Into the Deep".  In the present-day fairytale world, Cora is desperate to steal the compass away from Mary Margaret, Emma, Mulan and Aurora.  Henry, meanwhile, is still in danger from the dreams and Mr. Gold and Regina risk David's life to have him send a message to Mary Margaret in the fairytale world that could help her and Emma get home.
Watch a preview below for the November 25th episode of Once Upon a Time.  Browse our Once Upon a Time page for photos, spoilers, recaps and sneak peeks.
http://youtu.be/WOEAX8V6aRE