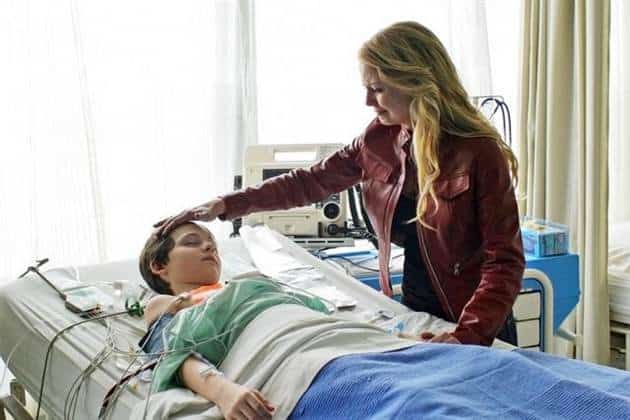 Now THAT'S what I'm talking about, Once Upon a Time fans! That's how you do a season finale!
I've been bemoaning the fact that it's taken Emma far too long to even try to accept both the presence of the fairytale world and her destiny. I completely understand that expecting her to do both is rather illogical, but it's a story, so I was hoping things would be pushed along. I'm thrilled to report that everything I had hoped would come to pass in this week's finale, actually came to pass. Let's summarize the big developments:
Emma Learned the Truth: After Henry collapsed in the last episode, she rushed him to the hospital, frantically telling the doctor that he had been poisoned. When Dr. Whale said it didn't look like poison, she wondered whether Henry was right…if magic was really at play. And then she picked up Henry's book and the truth literally seared itself into her brain. Within seconds, Emma was a believer. Was it slightly ridiculous and convenient that she truly learned about the fairytale world in that manner? Of course it was. Did I care? Not really. Because it led to…
Emma and Regina Smackdown: As Regina arrived at the hospital, the newly enlightened Emma dragged her into a supply closet to give her a beat-down. Regina didn't bother to deny the truth any longer and admitted that Henry had been poisoned by a magical apple, although it had been meant for Emma. Distraught that Henry was in trouble now, Regina agreed to help Emma save him, and the two women were able to put aside their differences enough to take a trip to see Mr. Gold.
Mr. Gold Reveals the Most Powerful Spell: It turns out there's a very specific reason why Emma can break the curse. Remember that little True Love Spell Rumpel brewed from pieces of Snow and Charming? He dropped that onto the parchment that created the evil curse. Since True Love is the strongest magic in the world, Emma could retrieve a vial of it and use it to cure Henry. Only there's a catch…Rumpel made sure the one vial was trapped inside of a terrible monster.
Maleficent Returns: It turns out that the True Love Spell was trapped inside Maleficent, who was transported into Storybrooke by Regina as a dragon, and trapped beneath the town. After getting Charming's sword from Mr. Gold, Regina sent her down into a cave to defeat the Maleficent dragon, which she managed to do. Unfortunately…
Mr. Gold Planned a Double-Cross: Mr. Gold wanted Emma to retrieve the potion, but not to save Henry. He wanted it for himself. He managed to incapacitate Regina and steal away the potion.
Henry's Fate: After Mr. Gold stole away what the women thought was their only hope to save Henry, they got a call from the hospital. It turns out that Henry actually died. Emma and Regina were devastated, but Emma took a moment to kiss Henry, bringing him back to life. And the kiss also had an unexpected side-effect.
Belle's Reunion: Earlier, after Regina refused to help Jefferson get back his daughter because Emma hadn't actually been poisoned, he decided to take his own revenge. He broke Belle out of the mental asylum and told her to find Mr. Gold. She did as instructed, repeating Jefferson's story that Regina had had her locked up, and asked Mr. Gold to protect her. He was elated to discover that she was actually alive and he took her out to the woods to perform another spell.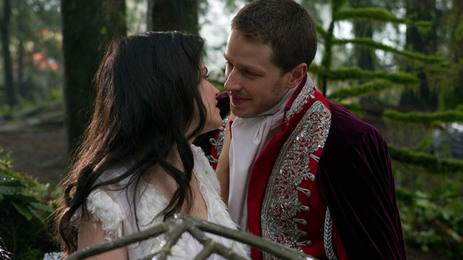 Charming's Quest: Throughout the episode, Charming worked to reunite with a comatose Snow. He managed to escape from the Evil Queen's castle (with help from the Hunstman, who has been missing from Once Upon a Time for far too long!) and then encountered Mr. Gold in the woods. As it turns out, Mr. Gold offered up a deal: he would help Charming escape the woods and find Snow if he would take the True Love potion and place it inside Maleficent. Charming was able to complete the task and then we were right back at the pilot episode: Charming awaking Snow White with a kiss. But we saw a few scenes the pilot didn't show us, including Charming proposing to Snow and her vow that they would retake the kingdom from his father and her evil step-mother.
The Breaking of the Curse: When Henry came back to life, Emma's actions also returned everyone's memories. At the hospital, Henry rejected Regina, who tearfully insisted that she loved him. But now that all of the Storybrooke residents knew the truth about what she had done to them, she was advised to run. The breaking of the curse also caused David, who was heading to Boston, to turn around and find Mary Margaret. Reunited, they remembered their true identities as Snow and Charming.
Magic is Coming: In the woods, Belle informed Rumpel that she remembered him. He took her to the well that August had previously shown Emma…the well whose waters are supposed to return what has been lost. Rumpel dropped the True Love potion into the well, which caused a huge purple cloud to spread out over the town. Back at home, Regina went from crying over the loss of Henry to smiling at the cloud. Because she knew what was coming. As Rumpel told Belle in the woods: "Magic is coming." Why did he do this? Because "magic is power".
That Final Moment: The pilot episode ended with the town clock (permanently stuck at 8:15) beginning to move again. The season finale ended with the clock, striking 8:15, being enveloped by the purple cloud. Awesome symmetry.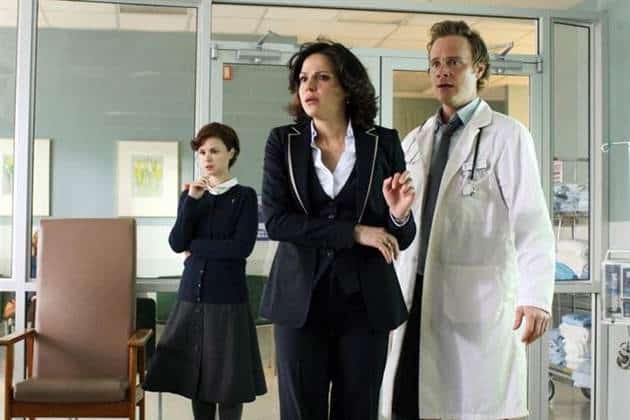 I thought the season finale of Once Upon a Time was the ideal way to wrap up a season. So many shows will avoid resolving a huge storyarc, preferring, instead, to hold it until the next season. But Once Upon a Time refused to do that. It basically resolved every major storyline. Emma learning the truth and accepting her destiny? Check. Regina's evil exposed? Check. Mary Margaret and David being reunited? Check. Everyone remembering their true past? Check. And I loved the fact that little questions were answered. We now know why Emma was always the curse-breaker and we even know why Rumpel worked to reunite Snow and Charming (so he could get more ingredients for True Love potions).
And yet, I'm not even worried about what could happen next season (yes, Once Upon a Time has already been renewed). In fact, I am giddy at the possibilities of what could happen. With magic coming to Storybrooke, does that mean that everyone will still remain in the town, but now with access to magic? Or will Storybrooke be transformed back in the fairytale world? Also, now that Rumpel knows Regina hid Belle for him, imagine the epic confrontations between those two.
I could not have asked for a better finale for Once Upon a Time, and I can't wait until the beginning of next season.
All of our coverage of the show can be found on our Once Upon a Time page. As new information surfaces throughout the summer, we'll be posting it there, so make sure to bookmark it and check back!