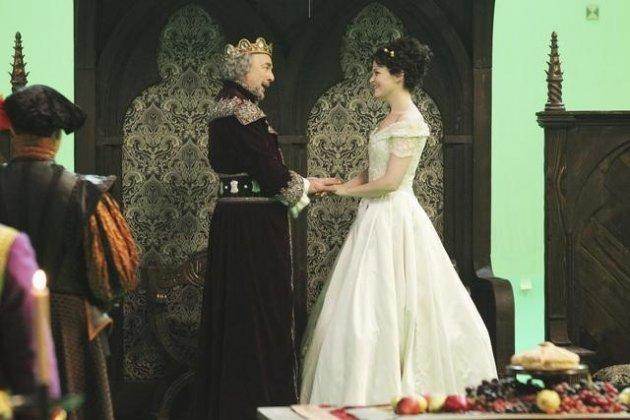 We've heard some rumblings of the Evil Queen's past on Once Upon a Time. It's clear that she absolutely hates Snow White. In a recent episode in the fairytale world where the Evil Queen sent the Huntsman after Snow, we learned that she couldn't really take any action against her step-daughter until her husband, King Leopold, had died. We also know that the Queen's jealousy of Snow White partly stems from Leopold's love – and the kingdom's love – for his daughter.
Last week's episode of Once Upon a Time focused more on the Snow White/Charming story (read our review), but we'll be rewinding a bit this weekend to a time before Leopold died, when he, Snow and the Queen were still a family. Although it's clear that the Queen is deeply displeased. At a recent birthday celebration, Leopold chooses to single out his daughter for praise and recognition instead of his wife.
According to ABC, we also know that this week's episode will feature King Leopold finding a magic lamp and a Genie who grants him three wishes. But since the focus in Storybrooke is on Emma and Sidney teaming up to expose Regina and her corruption as mayor, we can't help but think we may get some valuable insight into Regina and the Queen's history.
Watch a sneak peek featuring Mary Margaret and David.
Watch a sneak peek below featuring Snow, Leopold and the Queen from the January 29 episode of Once Upon a Time, airing at 8:00 p.m. EST on ABC. You can also view photos and a trailer for the episode.