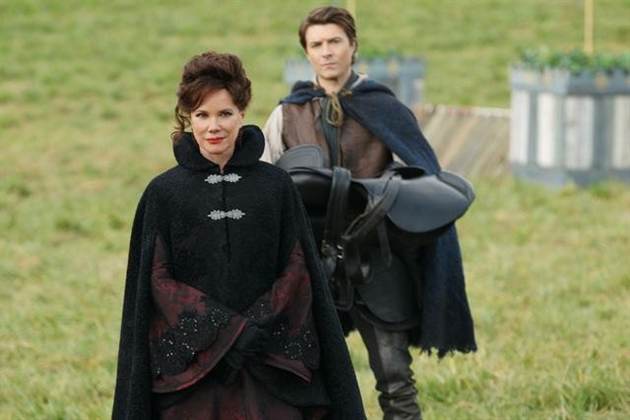 Apparently the apple doesn't far from the tree, or so we'll learn in the upcoming episode of Once Upon a Time, where we'll get a rare glimpse into the Evil Queen's past. As it turns out, she once had a perfectly normal name: Regina (yes, the same name as her Storybrooke counterpart). She also used to live in a small house with her father and her mother, Cora (guest star Barbara Hershey).
But if you're wondering how Regina went from a young lady to a Evil Queen, then don't want to miss this episode! Part of the reason likely stems from her mother, who is both insulting and disapproving. She has grand plans for her daughter to marry King Leopold (a.k.a. Snow White's father). But Regina seems to be in love with another man, which puts her in quite the quandary: does she marry the king and live a life of luxury, or does she defy her mother and marry for love?
We'll also finally be learning the source of the rift between the Queen and a young Snow White. Whatever Snow did, it's caused the Queen to hate her for years. Even more than that, it's bled over into their Storybrooke life, where Regina is determined to see Mary Margaret punished for a murder she didn't commit.
Watch a sneak peek below for the April 1 episode of Once Upon a Time. Then go browse through and bookmark our Once Upon a Time showpage for a preview and photos for the episode.