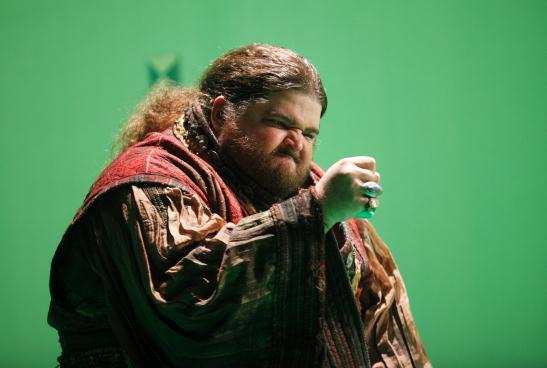 Once Upon a Time is all new on January 20 and then a rerun will air the following week.  But when the show returns in early February, Jorge Garcia will be returning as The Giant and we'll be getting some backstory on his character!  In this weekend's episode, Ethan Embry also makes his first guest appearance as "The Stranger", the man who crashed into Storybrooke (and Captain Hook).  And while the townspeople spend the episode trying to decide whether Dr. Whale should save his life or not (watch some sneak peeks), teasers for the next episode reveal his fate (he lives!) and his name.
Here's what will happen in "Tiny": "Kidnapped and brought to Storybrooke by Cora, the Giant (Jorge Garcia) unleashes his vengeance on the town when a case of mistaken identity leads him to try and settle an old score with David; Mr. Gold, accompanied by Emma and Henry, attempts to depart Storybrooke – hoping to
keep his memory intact when he crosses the town line — and heads to the airport in search of his son Bae; and Greg Mendell (Ethan Embry) questions Belle as to what she saw on the night of his car accident. Meanwhile, in the fairytale land that was and against his brothers' wishes, Anton, the Giant, climbs down the beanstalk and attempts to befriend some humans – whose intentions may not be so noble."
Don't miss this all new episode of Once Upon a Time on February 10 at 8:00 p.m. ET/PT on ABC.
Visit our Once Upon a Time page for more spoilers, photos, and sneak peeks for season 2.