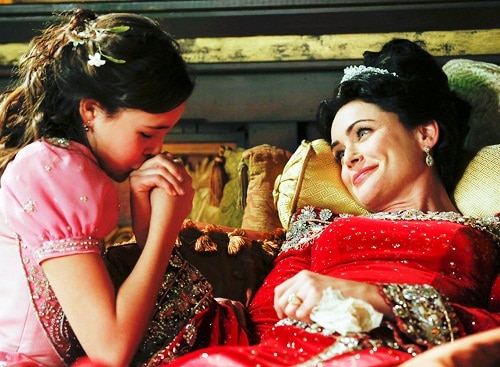 Once Upon a Time will soon give us the earliest backstory yet for young Snow White in the March 9 episode.
In "The Queen is Dead" we'll finally met Snow's mother, Eva, played by Rena Sofer.  In addition, Downton Abbey's Lesley Nicol will be making a guest appearance as Queen Eva's servant,  Johanna.  In the episode, "the Blue Fairy offers Snow White an unconventional enchantment that could help save her dying mother", but based on what we know of history and the title for the episode, this cure is guaranteed to fail.
In present-day Storybrooke, meanwhile, Mary Margaret will discover that Cora and Regina are trying to get possession of Rumplestiltskin's dagger.  With Mr. Gold in Manhattan in this weekend's upcoming episode, the two women plot to find his dagger in order to kill or control him.  But when Mary Margaret learns of their plan, she teams up with David and Mother Superior to find the dagger first and ensure they're unsuccessful.  And in Manhattan, Mr. Gold still tries to bond with Bae, who will finally come face-to-face with his father again in the February 17th episode (watch sneak peeks).
Don't miss all new episodes of Once Upon a Time on Sunday nights at 8:00 p.m. ET/PT on ABC.
Visit our Once Upon a Time page for spoilers, photos, sneak peeks, recaps and more.