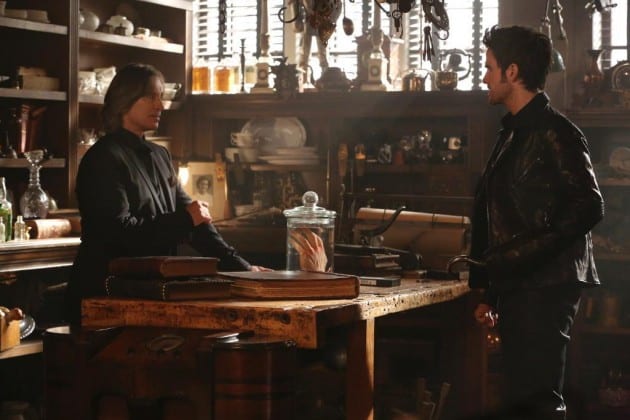 This Sunday's episode of Once Upon a Time features a big moment in the relationship of Hook and Emma: their first official date. However, before the two of them share a romantic dinner together, Hook visits Rumpelstiltskin so that the Dark One can quite literally lend him a hand.
In the clip below, Hook enters Rumpel's shop and uses his leverage against him (the fact that he knows that Belle doesn't have the real dagger that controls the Dark One—Rumpelstiltskin is still in possession of  it) to coerce him into using his magic to give him his hand back. But why does the pirate so desperately want to reattach his missing limb? "Should things go well," Hook tells Rumpelstiltskin regarding his date with Emma, "and she wants me to hold her, I want to use both of my hands."
Despite Hook's romantic intentions, though, reuniting him with his missing hand may not be as easy as he was hoping, as Rumpel warns him that it may bring out the worst in him. "This hand belonged to the man you used to be, a cunning, selfish pirate," he says to Hook. "If I reunite this with your body, there's no telling what influence it could have on you."
Ultimately, it looks like Hook won't listen to Rumpelstiltskin's warnings, as he still doesn't trust the "Crocodile." (And honestly, why should he trust him? It's not like Rumpel has been the most honest guy in Storybrooke.) So we will just have to watch and see if the Dark One's concerns over reattaching the hand that he cut off were legitimate or not and if Hook's romantic night with Emma will go as well as the pirate has planned.
Check out the scene below and make sure to watch Once Upon a Time this Sunday at 8 p.m. on ABC  to see what happens next.
[youtube http://www.youtube.com/watch?v=f9UQ7RUp0kE]
Photo via ABC