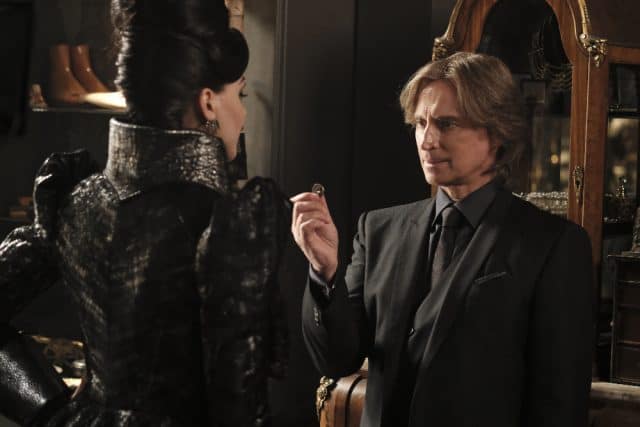 Once Upon A Time is back, full steam ahead, and things are starting to heat up now that the Evil Queen has returned, and (spoiler alert) everyone knows about it. The mysteries are getting deeper, and darker, and the conflict is flowing to the surface, and that's exactly what I want to see. When I spoke to the creators at San Diego Comic-Con, they told me that this season of Once would very much go back to a Season 1 and 2 type feel. I'm not sure I felt that way after the first episode, but I definitely can see it now, and it has me excited for what's to come.
This week on Once Upon A Time: The story of the Count of Monte Cristo unfolds, with Regina and Rumplestiltskin involved as per usual. The Count returns to Storybrooke to finish his mission to kill Prince Charming and Snow White. Emma talks to Archie about her dreams/visions, and worries that the Evil Queen may be involved in her envisioned death. Belle looks for a new place to live. The Evil Queen works to create chaos, and seduce Zelena away from Regina.
As you can see, there was a lot of meat to this episode, but I didn't feel like there were any issues with pacing. It actually has very much moved back to the foretold Season 1 & 2 feel. There's the main Storybrooke action, broken up by flashbacks, which told the story of a new character. The first two seasons had a lot of that. The flashback and main story were actually connected, but it didn't feel forced. The "everyone has stories they don't want told" approach is intriguing, and poses a lot of questions I assume will be answered during the season. They've hinted at several old characters having secrets in addition to finding new characters, which is likely the point of the scene between Hook and Belle, and Charming's bit at the end with the Evil Queen. There were several seeds planted that seem likely to pay off down the road a ways.
What I was really hoping for, and I saw shades of in "A Bitter Draught", is more of that intriguing, mystery element that kept me watching "one more episode" when I discovered Season One on Netflix. Â By hinting at things in the past of their current characters, they did a pretty good job starting that out. Last week's episode had me nervous about the direction of this season, but I'm 1,000% more confident this week.
I was actually a little sad to see them (spoilers) kill off the Count of Monte Cristo at the end. But, telling these relevant stories and keeping the sheer volume of characters down is essential to the show's success. I like love the supporting cast of this show, but it isn't successful when they overcrowd and stand around. That's what they did in Neverland, and they shouldn't have. If they continue to keep the stories more concise, and use the guest cast appropriately (yes, this week counts as appropriately) then Season 6 will be one of their best yet.
What did you guys think? Did you enjoy the episode? Let us know in the comments!
Once Upon A Time airs Sundays at 8/7c on ABC
Once Upon A Time Season 6 Episode 2 Review: "A Bitter Draught"
Summary
Emma deals with her recurring vision, while Regina is embroiled in a power struggle, on this week's strong episode of Once Upon A Time.