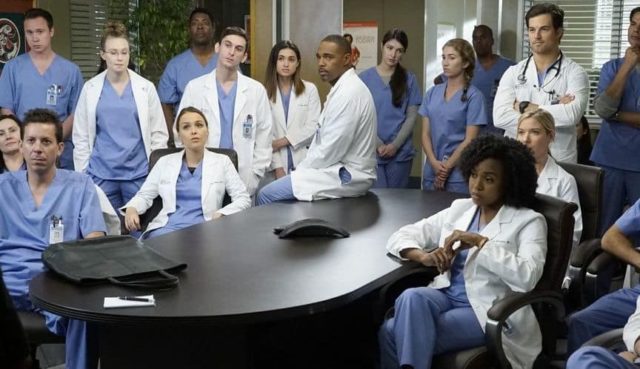 For those of you still watching Grey's Anatomy you know there's a new episode on tonight.  You also know that the show is amazingly in its 13th season.   The show's biggest star, Ellen Pompeo was recently at PaleyFest over the weekend sitting on the Grey's panel.  The 47-year-old actress was asked why she's been on the show so long.  Pompeo answered with "Maybe why I've been able to do this show for so long is because I try not to have expectations.  "I do the same thing in my life, I try not to look down the road too far because we're going to miss what happens right now today.  I try to enjoy every moment with an open heart and an open mind … Life will tell me where I'm going. I don't want to think about what's next, I want to enjoy this moment."
Perhaps Pompeo's biggest admission about her decision to stay on Grey's Anatomy came in 2016 when she told People magazine that age was the number one factor.  Women have it extremely hard in the business once they reach a certain age and Pompeo is well aware of that.  She fully admitted to being nervous about not being able to find work if she were off the show.  I gotta say that's pretty refreshing and gives me a new found respect for her.  While I wish that kind of discrimination weren't the case in Hollywood, at least Ellen is a realist until changes come about.
For all you Grey's fans out there I have a funny Shonda Rhimes treat for you today.  I stumbled across this text message on Reddit that had the title "Explaining Grey's to my Girlfriend."   Check it out below: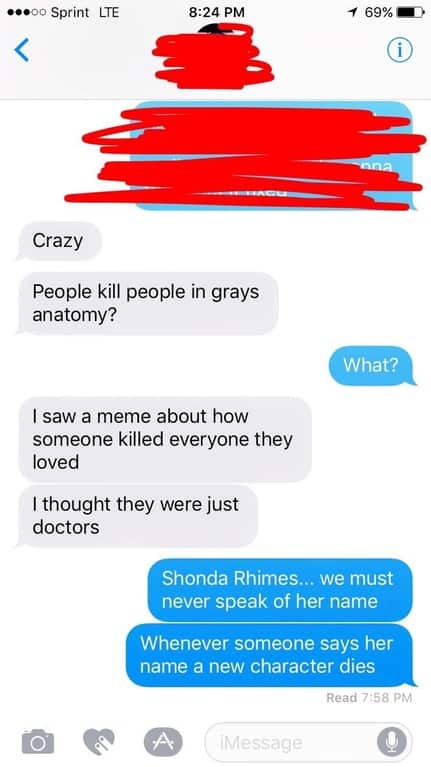 Commenters replied with
Shonda is worse than all the writers on ER. I will never forgive them for killing Dr. Green. 
Damn you Shonda
Be careful what you say
Yup!