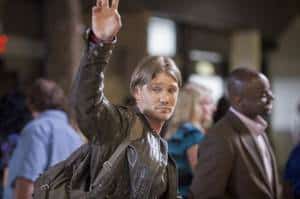 Chad Michael Murray was last seen in the season 6 finale of One Tree Hill. At the time his character (Lucas Scott) and his wife, Peyton, rode off into the sunset with their baby. After the couple left, executive producer Mark Schwahn said they've been touring the world.
But Chad Michael Murray is reprising his role of Lucas one more time in the final season of One Tree Hill tonight. Tonight's episode, directed by star Austin Nichols, is titled "Last Known Surroundings". Nathan has disappeared and his whereabouts are unknown to his wife, Haley. "She reaches out to Lucas in her time of need", Schwahn explains in an episode preview. For his part, Jamie is thrilled to see his uncle again. "It was nice to see Chad back in the fold and nice to see Lucas spending some time with Haley". The two meet up in an airport and Lucas is adamant that Nathan will return. Meanwhile, Nathan does make an escape attempt in tonight's episode. Julian also finds some evidence that could help Dan in his search for Nathan, while Brooke comes face-to-face with Xavier.
Watch a trailer, sneak peek and episode preview for tonight's all new One Tree Hill below.