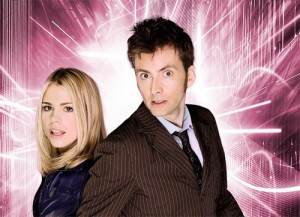 Both David Tennant and Billie Piper are no longer part of Doctor Who, but there's still a fandom that remains built around both actors as a result of that show. Tennant appeared as the Tenth Doctor on the show from 2005 to 2010, while Piper starred as companion Rose Tyler from 2005 to 2006, making sporadic appearances in following seasons.
Now, Tennant and Piper are working together again, this time for the BBC series Love Life. While the duo don't appear in the same episodes, both will have major roles on the show, which will focus on inhabitants of the English seaside town Margate. And now, you can play a part in the series as well.
Extras are needed for the series, which is filming on location in England. Applicants between the ages of 20 and 45 can apply to be extras by calling the casting network (0208 391 2979). You can see here for more details. Naturally, if you don't live nearby, applying won't be practical.
Tennant recently guest starred in the first episode of the new BBC Three comedy series This Is Jinsy as Mr. Slightlyman. Earlier this year, Piper finished her four-year role as the lead character in Secret Diary of a Call Girl.
Love Life will be largely improvised, a reported first for a BBC Drama. The series is expected to air sometime in 2012.